After the Wedding | Review
Something Borrowed, Something Blue: Freundlich Updates Danish Drama with Gender Bending Twist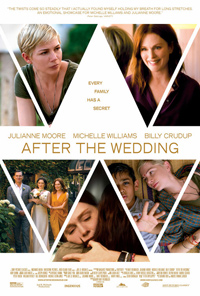 Just as Danish director Susanne Bier masters the art of cult filmmaker with 2018's Bird Box, her most accomplished film, 2006's celebrated After the Wedding, receives an American remake from Bart Freundlich. Having spent a career bouncing around between dark-natured indie dramas and light comedies, Freundlich achieves his most significantly nuanced film since his 1997 debut The Myth of Fingerprints in this novel reconfiguration of the well-heeled, intercontinental original penned by Anders Thomas Jensen. Efficiently told and carried by a handful of exceptionally performed sequences from Michelle Williams and Julianne Moore, this wholly American retake also has no problem filling out its well-rounded corners, sometimes forsaking subtlety for convenience. Though those familiar with the superior original will be all too familiar with the trajectory of the narrative, Freundlich's lack of finesse allows the film to feel as if it's merely checking off all the predictable beats we can easily surmise once the lofty, interconnected relationships are revealed, while some visual subtexts tends to steer his melodrama into soap opera territory despite the intentions of the cast.
Having devoted her life to working for an orphanage in Calcutta, Isabel (Williams), struggles valiantly to help keep the financially struggling organization afloat. Word arrives from New York about a mysterious grant which could solve all the orphanage's problems (to the tune of two million dollars). The only trouble is, Theresa (Moore), the multimillionaire head of the media company looking to award the grant, insists Isabel travel to New York in person. Reluctant to leave behind Jai (Vir Pachisia), the young boy who she's grown emotionally attached to, their need for the money outweighs her reticence. Once in New York, housed in a swank hotel suite, Isabel is coerced into attending the wedding of Theresa's daughter, Grace (Abby Quinn), before sealing the deal. At the wedding, Isabel is immediately confronted with a figure from the past she's been so desperate to escape, Theresa's sculptor husband, Oscar (Billy Crudup). As the week progresses, the three adults find themselves enmeshed in the thick of emotionally traumatic revelations which will change all three of them forever.
As evidenced by his chilly Thanksgiving drama, The Myth of Fingerprints, which has a certain The Ice Storm­-esque sensibility, Freundlich seems to work best with a meaty ensemble. It's also his best use of wife Julianne Moore, who has headlined several of his features, last seen in his 2005 film Trust the Man. Moore is a shoo-in for this kind of material, a wealthy WASP who, like many of her celebrated performances, requires her to suffer the slings and arrows of a terminal illness (Safe, Still Alice, etc.). She doesn't disappoint, delivering several emotionally eloquent scenes designed specifically to define After the Wedding as a tearjerker. As the film's second lead, Michelle Williams is equally adept as her polar opposite, a woman thrust into a curious and compelling reversal of fortune. The notion of motherhood, and how we judge a successful one from a failure, are the issues at the heart of this version of the film, and this sometimes usurps the glaring socioeconomic differential between these two characters (which was more evident in Bier's version). This often makes this gender-switch version feel a bit sanitized, as if we're ignoring the extreme privilege which is the real driving force of this story (like Williams comments on Moore's character, "she doesn't want to hear about the orphanage," and it's a critique which reverberates offscreen as well). Freundlich also misses some pertinent opportunities to explain Williams' other relationships she's forced to abandon in Calcutta.
Still, Freundlich's After the Wedding is highly immersive and emotionally intuitive when it comes to the dramatic tension of its unique scenario, no matter some of the logistical questions it conveniently leaves unanswered. One wishes Freundlich had allowed the scenario to speak for itself rather than depend on some oddly incorporated subtexts, such as the repeated motif of a busted bird's nest Moore's character rescues from the ruins of the forest, later used as a nagging art installation in their home (which, of course, parallels Jai's oft-repeated fascination with birds—but Freundlich apparently doesn't believe one in the hand is worth two in the bush).
Reviewed on January 25th at the 2019 Sundance Film Festival – Premieres. 110 Minutes
★★★/☆☆☆☆☆