Medusa | 2021 Cannes Film Festival Review
O Kill, All Ye Faithful: Da Silveira Kills the Teen Dream in Capricious Sophomore Film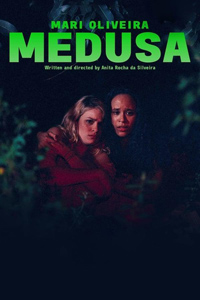 If there's anything for certain in approaching Medusa, the extravagantly administered sophomore film from Brazil's Anita Rocha da Silveira, it's the director's delightful penchant for giallo flourishes. Following her similarly dreamy take on young women and violence with 2015's Kill Me Please, Da Silveira turns on an interesting reversal of "Take Back the Night" with her latest exercise, which is as much a social satire as it is a horror film concerned with the ills of religion and nationalism.

Referencing a bevy of classic genre works in various visual homages, it's a delirious parody of religious propaganda as a suppressor of sexuality and patriarchal hammer used to secure a division of gender. Much like her fellow countryman Gabriel Mascaro's neon-infused church melodrama Divine Love (2019), this is another portrait of Brazil as a world on a wire, threatening to spin out of control with the continual regressive embrace of control mechanisms devised in an archaic world.
Mari (Mariana Oliveira) works by day in a beauty and plastic surgery clinic while at night she roams the streets with her best friend Michele (Lara Tremouroux) and their gang of masked girlfriends who beat up lone women and force them to accept Jesus as their lord and savior online. Between church and nighttime street clean up, Mari is quite preoccupied. The young women yearn to discover where disappeared actress Melissa Garcia now resides, infamously maimed by a girl group like their own a decade before. They believe a snapshot of her face would be enough to force other young women to fall back into place. But when one of their victims strikes back and scars Mari's face, she suddenly finds herself reexamining her place within this group and this religion. What she discovers about herself will lead her from a whisper to a scream.
The opening sequence sets the tone, where a lone devious girl (young women who walk alone at night are of automatic ill repute) gazes in wonder at a video of a woman's sexually charged dance which plays like Teyana Taylor doing the Isabelle Adjani/Possession miscarriage. As she's ravaged by Mariana and her violent squad, who all seem to serve the desires of blonde leader Mariana, elements of Walter Hill's The Warriors (1979) bleed over into Franju's Eyes Without a Face (1960), when the specter of the acid scarred actress catalyzes the narrative. Their radicalized Christianity is only tempered by church services where the girls perform as Michelle & the Treasures of the Lord (very "The Righteous Gemstones"), including a number of entertaining musical numbers (such as propaganda lyrics set to "House of the Rising Sun"). Da Silveira digs valiantly into their hypocrisy through Mariana, compromised by her run-in with a resilient victim. A jagged scar across her face jeopardizes her job at a plastic surgery clinic, while her cohorts cluck about her doomed future.
Partially as an escape to lick her wounds while also remaining integral to their squad's mission in cleansing the streets on iniquity, she devises a plan to find the mysterious Melissa Garcia, believing Melissa is hidden in a coma clinic (run by an ethereal woman who likes to dance at night among the sleeping patients where "almost nobody wakes up and almost nobody dies"), Mariana instead experiences a sexual awakening and the inherent power of her own primal rage. The mythical phallic-haired Gorgon is more a threading motif to where the shrieky Medusa leads us in what plays like a biblical giallo film and formulates the necessary feminine energy missing from something like The Neon Demon (2016).
Lensed by Joao Atala (who served as DP on Kill Me Please as well as Petra Costa's 2019 doc The Edge of Democracy), Medusa beckons us into a neon lit world infected by a theology which has absorbed and perverted the evils it was meant to combat. Mari Oliveira often captivates, also reuniting with Da Silveira from Kill Me Please. If the energy of the final act isn't as wickedly energetic as the film's set-up, there's definite catharsis in store for the denouement in a film which, like Russ Meyers once attempted, is an ode to the violence in women.
Reviewed at the 2021 Cannes Film Festival July 12th – Directors' Fortnight. 128 Mins.
★★★½/☆☆☆☆☆