All Good Movies Are the Same: Joe Wright's Lavish Tolstoy Adaptation a Decadent Affair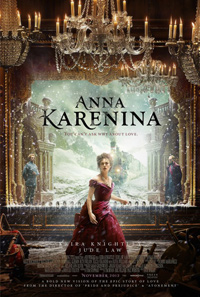 Groaning beneath the weight of its classic source material, not to mention the reputation of past perennial adaptations, appearing every decade or so, Joe Wright's Anna Karenina manages to bugle itself forward successfully, though this train doesn't quite avoid significant gaps in its well grooved track. After the success of his 2005 adaptation of Pride & Prejudice, Wright's decision to tackle another world literary classic for cinematic repolishing is not entirely surprising, though his ingratiating determination to fling muse Keira Knightley into nearly every vehicle doesn't quite pay off as well as it has with his past projects.
To those uninitiated, in late 19th century Imperial Russia, two somewhat related love stories unfold, tempered by societal obligations and conceptions. We're first introduced to an infidelity in Moscow, where Oblonsky (Matthew Macfayden), whose wife, Dolly (Kelly Macdonald) has recently discovered her husband's indiscretions with the governess of their children. In an effort to repair the damage he's done, Oblonsky sends for his sister, Anna Karenina (Knightley) in St. Petersburg to pay a visit and convince the hysterical Dolly of the importance of forgiveness.
Anna, herself in a stifled marriage with the cold and precise statesman, Karenin (Jude Law), happily obliges. On the train, she meets Countess Vronsky (Olivia Williams), traveling to Moscow to meet her son, Count Vronsky (Aaron Taylor-Johnson). As they arrive at the train station, Anna meets the young, handsome son of the Countess and the two seem to be smitten instantly. They are destined to meet again at a ball about to be held by Princess Shcherbatsky (Susanne Lothar), the mother of Dolly and Kitty (Alicia Vikander), where it is predicted that Vronsky will at last propose to Kitty. Meanwhile, Oblonsky's friend from the countryside, Levin (Domhnall Gleeson) has traveled to attend the ball so that he may, at last, also propose to Kitty, with whom he has fallen in love. As no one behaves as expected at the ball, two storylines diverge, meant to be seen as polarizing opposites, so just as Levin and his eventual romance with Kitty starts to bloom, the blazing and illegal passion of Anna and Vronsky so takes its toll, their unsanctioned romance hurtling us all to the very melancholy end of Tolstoy's immortal tale.
As with previous adaptations, the subplot of Kitty and Levin is diminished considerably here. In the novel, we seem to get to know Levin and his political views more intimately than our eponymous heroine. Alas, even though Tolstoy's own rather conservative viewpoints on marriage would seem to dictate otherwise, the story of Levin and Kitty and their eventual, prosaically contented love for one another isn't very interesting, as written (the realism of their union and actual feelings for each other might make an interesting exercise in sacrifice, however). In this version, Wright's lavish production is its own enemy.
Effused with a jangling, jarring energy, this Anna Karenina has large portions set, literally, on a stage, a metaphor for all the posturing and performance enacted consciously by our lovers caught in the cross hairs of public opinion. The result is visually astounding in several scenes, particularly Wright's handling of Vronsky's fateful horse race (visually excised completely from some versions). But all of this calculated design, which plays like an astutely choreographed musical (especially the Oblonsky sequences) without any discernible music, only mutes our feelings for the roiling, raging passionate affair that's supposed to be transpiring before our eyes. Our ability to dissolve into the narrative and escape with the hungry-for-love Anna on her torrential tour of self destruction is crippled by the film's mechanical self-reflexiveness.
Knightley, for her part, does an alright job, perhaps better than might have been expected. However, there's something not quite right about her Anna Karenina, and watching her embody one of literature's most enduring tragic figures feels a bit like eating a banana before it's quite ripe enough to do so, the texture all wrong, a chalky, bitter aftertaste lingering long enough to dispel much of the initial satisfaction. This is a character that some of cinema's greatest actresses (in English speaking versions) have had a crack at on screen, perhaps none so better than Greta Garbo, who played her twice, in the 1927 titled Love and again in 1935. And not to mention Vivien Leigh (1948), Claire Bloom (1961), Jacqueline Bisset (1985), and Sophie Marceau (1997), among several others, that Knightley can't quite compare to.
All this is not to say that Wright's latest version isn't meritorious, as it's definitely the finest staged version thus committed to film. But the heights of palpable grief reached in Tolstoy's novel, only more powerful for its juxtaposed country marriage subplot depicting the happiness made possible only for those consigned to staying within their designated realms, are never quite reached here, and thus, those unyielding train tracks that provide Anna with her final resting spot (which is not the conclusion of the novel) don't provide the jarring bite they very well should. Instead, Anna's lifeless corpse is as pedestrian as that nameless plebian whose intestines we witness splattered all over the train platform in the first segment of the film. Lastly, please note that, though her part is minimal, the late great Susanne Lothar, perhaps best known for her roles in Michael Haneke's films, like Funny Games (1997) or The Piano Teacher (2002), makes one of her last onscreen appearances here. Wright certainly padded out his supporting cast with delightful luminaries in this opulent production. He was lucky to get Lothar before she passed in July of 2012.