Reviews
Mea Maxima Culpa: Silence in the House of God | Review
Gibney Exposes Suppression Of Truth Behind Ministerial Molestation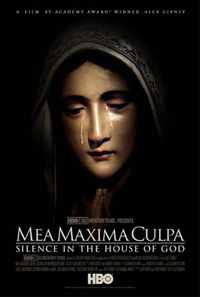 After taking a breather from feature hardline journalism with a series of lighter docs in Catching Hell, Magic Trip and The Last Gladiator, the prolific documentarian Alex Gibney returns to the austere with Mea Maxima Culpa: Silence in the House of God, a film that begins with the personal tale of a religious school for the deaf that became the first public exemplification of pedophilia in the Catholic church, adroitly permeating the depths of cover-up within the organization, leading all the way to the apical seats of the Vatican. Impeccably researched and devastatingly tragic, Gibney's latest is a magnificent deconstruction of organized crime rather than a blatant attack on religion as one might assume a film of this nature could become.
Starting back in the 1950s, Father Lawrence Murphy, an instructor and caretaker of children at the St. John's School for the Deaf in St. Francis, Wisconsin, began to take advantage of his unique situation in a variety of disgusting and disturbing ways. Because his young, male students were incapable of communicating with their non-signing-parents and too afraid to tell anyone else, Murphy would sexually abuse the boys, manipulating their solitary religious rituals into personal molestation sessions. When he was finally reported to the church in 1963, instead of punishing him directly or turning him in to the police, the Vatican did absolutely nothing, allowing him to prowl the halls of St. John's without reprimand for another decade before he was meagerly moved to another school. Five of Murphy's countless victims have come forth here baring embarrassment, rage and a myriad of stories and documents that link their original complaints back in the 60s all the way up to Pope Benedict XVI, who was the personal overseer of reported pedophilia cases within the Catholic church for many years.
Not content to rely on the open-hearted testimony of just these five tortured men, Gibney has conducted an exhaustive investigation into each member of the church who failed to do the right thing in regards to this case, from the Wisconsin local parishes all the way up to the bigwigs in Rome. And though at a glance it seems quite a narrative leap from hometown predator to worldwide cover-up, with progressively more divulgent interviewees, intensively researched pinpoints and a serialized structure to gracefully link it all together, Gibney ties the personal to the pervasive with a profound expedience. His creation here is certainly not the feel good film of the year, but it is indeed a critical commentary on the failings of humanity that should shake the foundations of complicity within an organization that should know better. With Mea Maxima Culpa, Gibney adds to his ever growing oeuvre of upper echelon docu features via a call, loud and clear, to concede.
Reviewed on September 15th at the 2012 Toronto International Film Festival – TIFF Docs Programme
106 Mins.