Can't-Man: Reed's Marvel Entry Positions Rudd as Dubious Franchise Tangent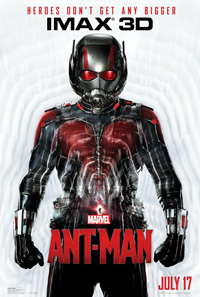 Evidence of Marvel's continuing imperviousness to even the most promising of fashionable script doctors is Ant-Man, an adaptation of one of the brand's more obscure super hero offerings, featuring a protagonist whose transformative power lies in the most unassuming of eponymous spirit animals. With a screenplay tinkered on by Adam McKay and Paul Rudd following the original plans of Edgar Wright to direct from a script he wrote with Joe Cornish, one would expect a modicum of self-aware ridiculousness to beam this trifling entity into a rudimentary chunk of entertainment. Unfortunately, this isn't the case, despite the attempts of overly qualified cast members to energetically elevate unfortunate swaths of dialogue like "Get on the damn ant!" Directed by Peyton Reed, whose last theatrical feature was 2008's Jim Carrey comedy Yes Man (which perhaps describes his level of control on this film), it's likely to be the sort of mindless diversion devoured by a perpetually unfaltering core audience, but the rest of us tired of this staunchly self-involved and defiantly conventional universe will be left with one more opportunity to grumble at the infinite depths of Marvel's stockpile.
Ex-con Scott Lang (Paul Rudd) is having a difficult time adjusting to life after prison, having pulled a white-collar Robin Hood stunt by stealing from crooked Bernie Madoff-ish executives and returning the stolen booty to the bank accounts of rightful owners. He's desperate to maintain contact with his daughter, but his ex (Judy Greer) and her new beau, law abiding cop Paxton (Bobby Cannavale), won't allow visitation until he can afford child support. When he agrees to undertake his current roomie and ex-cell mate Luis' (Michael Pena) plan to burglarize an old man's safe, Lang finds himself at the mercy of Dr. Hank Pym (Michael Douglas), a has-been scientist (though an important figure in the larger scheme of the Marvel universe) who needs Lang's skill-set to combat the evil Darren Cross (Corey Stoll), his ex-mentee who has hijacked Pym's secret formula of the 'Pym Particle' to use it as high tech weaponry in cutting edge warfare (if you haven't guessed, this is the formula/magic suit allowing for men to shrink to 'ant' size). Cross has yet to figure out a key component in the formula, but Pym, with the help of his own estranged daughter (Evangeline Lilly), plans to use Lang to compromise Cross' data, which requires Lang to undergo advanced training and a dangerous face off with Falcon (Anthony Mackie) to confiscate material on the Avengers' premises.
Rudd is certainly charming, having endured an endless amount of sit-ups and dietary restrictions for his thankless and unnecessary shirtless sequence. But every good-natured quip he manages to insert as a rejoinder to the overtly serious and ultra-snarky supporting characters only outlines how mercilessly this wastes his talents. From an opening scene in a prison fist fight to a staunchly bland climax finding him lost in an 'unknown' realm when he's forced to shrink himself to fit between molecules (something resembling the resting place of Big Hero 6 mixed with the twilight hour of James Wan's 'further'), Scott Lang is never a fully fashioned personality, some accidental prototype linked with schlocky zeal to the film's other do-gooder via a conflicted father/daughter bond.
One could say Michael Douglas is equally out of place, but considering a recent turn in the abominable Beyond the Reach his mildly amusing performance might be more cause for praise than censure. Evangeline Lilly, decked out in a severe Velma Kelly bob, is about as self-assured and unmemorable as always, here thanklessly required to serve as Ant-Man's contrived love interest. Corey Stoll is a rather funereal villain, so dryly determined he's only as substantial as a fluff of kindling. And Michael Pena seemed too good for these manic supporting (and rather stereotyped) roles over a decade ago.
The CGI is as pleasant as usual in these special effects laden extravaganzas, though the life-sized ants look incredibly artificial. And at the end of the day, for those of you with 'high hopes,' ultimately this ant can't quite move that rubber tree plant. But if you don't mind laughing on-cue, then maybe this inconsequential super hero will delight.
★½/☆☆☆☆☆