Day of the Mother: Stone's Flighty Revenge Thriller Favors Laughs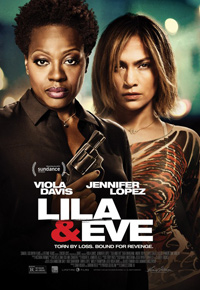 There's a certain degree of entertainment to be gleaned from director Charles Stone III's latest feature, Lila & Eve, from first time screenwriter Pat Gilfallan, though unfortunately in the form of unintentional comedy. Derided as a camp after its late premiere at the 2015 Sundance Film Festival, it's Stone's first directorial feature in over a decade (he's been working in television since the 2004 Bernie Mac headlined Mr 3000, including the widely discussed TLC Lifetime film CrazySexyCool), and most likely won't garner much favorable attention. Bearing the familiar turns we've become accustomed to in the limited subgenre of female driven revenge films, Gilfallan peppers his scenario with bits of illogical instances and eventually neuters the shock value of his big twist well before the third act begins. And even though this robs the film of its sleazy, even exploitational powers, a pair of committed lead performances saves this from being overtly laughable or instantly forgettable.
Lila (Viola Davis) is a hard-working single mother raising two boys in a rough area of Atlanta. When her eldest son (Ron Caldwell) is accidentally shot in a drive-by, she has a hard time coming to terms with the event. Seeking emotional support with a self-help group of mothers who've lost their children, she meets Eve (Jennifer Lopez), an angry, bitter woman hell-bent on serving justice to those who've wronged her rather than wait for the overwhelmed police force, here represented by Holliston (Shea Whigham) and Scaketti (Andre Royo). Eve agrees to be Lila's sponsor, and through her influence, the women decide to right these wrongs themselves via cold, hard street justice.
As far as films of this ilk, Lila & Eve is a step above many predecessors, including items like Sleeping with the Enemy (1991) or another similar Jennifer Lopez vehicle, the Michael Apted helmed Enough (2002). Davis and Lopez, 'reuniting' after both appearing in Steven Soderbergh's celebrated Out of Sight (1998), are for the most part a winning combo, though this could eventually be termed the 'out of mind' follow-up. Davis, in particular, proves her ability to enliven basic scenarios into unprecedented emotional territory, but her sensibilities tend to sway the film into a deadly seriousness the rest of the cast, and the scenario itself, simply isn't aiming for. Jennifer Lopez surprises as the trigger happy sidekick, scoring most of the films guilty pleasure moments, with a body count also underscoring the film's unrealistic edges. She provides the scenario with the right amount of ridiculousness.
The title recalls Thelma & Louise (1991) in its twin take-back-the-night rebellious streak, but without any degree of subtlety, this feels about as grimy as I Spit on Your Grave mixed with Death Wish (or for a more modern female driven equivalent, the underrated Jodie Foster vehicle, The Brave One). You can take your pick of familiar ground Gilfallan treads, but if this had been a bit more tightly realized, with less twist baiting, Lila & Eve could have achieved ambitious heights as a daring cult item.
As it stands, it gives us too many chances to laugh at it, racing through unbelievable explanations and devices already outmoded in the late 70s, when we could actually believe amateur vigilantes could so niftily evade the disinterested police. Stone and Gilfallan's inability to make Lila complicit in any way, presented as a picture perfect do-gooder, also makes this a hard pill to swallow. It allows for waste of time tangents, such as a romance with a hokey neighbor, and then some stillborn opportunities for its interesting supporting characters, portrayed by actresses such as Michole Briana White as the leader of the self-help group, and a fellow bereaved mother played by Yolonda Ross, who is responsible for providing lemon bars in a few too many scenes. Shea Whigam is harnessed into the generally likeable cop composite, slowly figuring out who has been killing all these connected gang members.
But the trouble with films like Lila & Eve is how easy it is to point out glaring discrepancies, with overgeneralized and even half-baked ideas leading to automatic dismissal. However, time and effort clearly went into the production and it headlines a couple performers we're not used to seeing utilized in this fashion (compared to J. Lo's earlier 2015 theatrical release, The Boy Next Door, Stone's film seems Oscar worthy). Despite some doofiness and a High Tension inspired riff, it's at least fun hokum.
★★/☆☆☆☆☆