Reviews
As Luck Would Have It | Review
The Spark of Life: Iglesia's Latest a Soap Opera Soap Box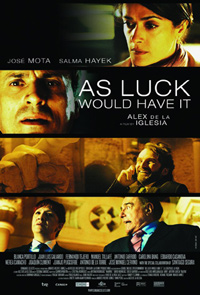 Following on the heels of his successful 2010 award winner The Last Circus, Alex de la Iglesia leaves behind genre for his most straightforward drama effort yet with As Luck Would Have It, a denigration of class and greed that operates nearly exclusively as a mouth piece for the overtly obvious views it continuously espouses. Once again snagging some A-list talent, Iglesia sinks them, along with Kiko de la Rica's glorious cinematography, into a quagmire of telenovelic proportions. A would be satire, Iglesia bungles melodrama, black comedy, and motifs more at home with Arthur Miller into a heterogeneous mixture of humanity where black and white never fade to grey.
An out of work advertising executive, Roberto (Jose Mota), is desperate to get out of a two year unemployment slump. His ravishingly beautiful and supportive wife, Luisa (Salma Hayek) is the long suffering force that holds Roberto and home life with their two children together. But things are starting to look up now that he has an interview opportunity with a Javier (Joaquin Climent), an old friend and employer (for whom he coined a moneymaking ad years back with the line "the spark of life"). However, Roberto's interview is a flop, and there doesn't seem to be a position available even if Javier wanted to extend the opportunity.
Crestfallen, Roberto decides to drive to the hotel where he spent his honeymoon with Luisa. They have an anniversary fast approaching and he would like to arrange a special celebration with his wife. But Roberto discovers that the hotel is no longer there, instead replaced by a monolithic museum that's just unveiling an ancient Roman amphitheater to the press when Roberto rolls up. Wandering through the crowd, Roberto finds himself in a restricted construction area, and after being startled by a security guard, falls off a scaffold and gets an iron rod lodged in the back of his skull. When his dire situation is discovered, the press and paparazzi descend like vultures, which Roberto sees as a chance to make a lot of money for his family. Luisa is dispatched to the scene, along with an old friend Roberto manages to contact, who assigns Roberto an agent to secure a profitable interview before the rod can safely be removed from his head.
Jose Mota is a television comedy veteran and makes his feature debut here in a mostly likeable performance as a Willy Loman-esque loser that manages to be both repulsive and charming. For her part, Hayek is also likeable in a role in which she's somehow able to elicit some modicum of sympathy. A treacherously written screenplay from Randy Feldman (best known for writing 1989's Tango & Cash) is full of melodramatic landmines from the opening sequences where Mota and Hayek are reduced to schmaltzy cooing.
As the film progresses, Feldman's hackneyed flourishes only gain indiscreet momentum in this boorish critique on greed and capitalism, where even impending death is overshadowed by the promise of profit. Other poorly written baddies trounce around behind the scenes uttering lines and expounding ideas that might have been more interesting in a less sensationalized setting. And Iglesia manages to trot out Carolina Bing (The Last Circus) in a supporting role as a news reporter, but by the time she comes around we're set for head-on tearjerker mode and she's graced with the same do-the-right-thing archetype assigned to Hayek.
However sudsy, As Luck Would Have It (the actual and more appropriate translation would be The Spark of Life) is a great looking film, its ancient Roman amphitheater a perfect stage for its tragicomic contents. Unfortunately, it's completely devoid of sparks of any kind.