Meaningless Affect: Marucci's Interactive Film Project a Dreadful Observation of Social Awareness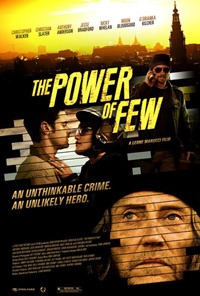 Moments into Leone Marucci's incomprehensibly obnoxious new film, The Power of Few should have one pondering not only how some of the notable cast members signed onto the film but how this received funding in the first place. Assaulting the senses like a New Orleans set Crash (2005) meeting indefinably interconnected drek of something like Answers to Nothing (2011), this amateur circus of poorly conceived nonsense may have been borne out of good intentions, but only serves to reinforce the notion of what path they pave. Developed by writer/director Marucci and producer/star Q'orianka Kilcher as an interactive project meant to involve a global audience, where online voters were able to determine casting, costumes, location, editing, and story development, results in what feels like the product of Communism on filmmaking. "God save us from the innocent and the good," wrote Graham Greene.
Six different points of view unfold one sunny New Orleans afternoon, spanning twenty minutes of time, where each segment eventually intersects in one climactic moment where criminals and a high profile religious based heist collide. Living in squalor with his hopped up mom (Louise Linton) and baby brother, Cory (Devon Gearhart) decides that he must acquire medicine for his ailing brother, and thus takes off on a mission to rob The Space Bar, an internet café/grocery store run by the pregnant Mala (Moon Bloodgood). Mala has been arguing with husband Shane (Derek Richardson) about his aspiring acting career. Meanwhile, undercover agents Clyde (Christian Slater) and Marti (Nicky Whelan) are on the hunt for a suspect that may have recently stolen the Shroud of Turin from the Vatican, apparently hiding out in New Orleans. A delivery woman on a motorcycle, Alexa (Q'orianka Kilcher), saves Dom (Jesse Bradford) as he's being pursued by gangsters Junkshow (Anthony Anderson) and Shamu (Juvenile). While Dom tags along for Alexa's super important rush delivery, they fall in love. Lastly, a pair of homeless men, Doke (Christopher Walken) and Brown (Jordan Prentice) meander through the New Orleans streets, ruminating on Jesus and other stuff. As each of their stories intersect for a violent collision of bloodshed, mayhem, and murder, at the last minute, the unexpected presence of a young girl, Fueisha (Tione Johnson), aka Few, abruptly changes each of their ill fated lives for the better.
Filmmaking is clearly not meant to be an outreach effort and Marucci and co.'s ironically titled The Power of Few clearly suffers from too many cooks in the kitchen, both in production and on the page. But really, the film serves as an example that it may be unwise to involve the input of others (particularly non-filmmakers). As Kilcher and Marucci state, "We really wanted to include the global audience and give everybody who has talent the chance to be involved in a Hollywood movie." The painstaking result is shockingly bad, never mind the glaringly derivative narrative structure, including too many characters that were too poorly written to spend too much time with, but there is absolutely no excuse for the humiliatingly bad dialogue, of which there are too many examples to properly document (but Christian Slater squawking about "until this goes Code Zero" as he remonstrates his kill happy partner or Richardson trying to sound passionate about an acting gig that plays like a cross between Little Shop of Horrors and Sling Blade rank high on the list).
And during its unconcerned attempts to repetitively feed us sequences we've seen before, Marucci's worst crime may very well be his misuse of Christopher Walken, here capped with a curly Alanis Morissette wig, a local newscaster turned bum spouting a dolorous barrage about his being a Clone Jesus. And the cherry on the cake is that salvation comes in the form of a "magical girl from the ghetto" named Few. A stroke of unaware genius comes in a line from Walken, who advises his cohort to "listen to what people don't say." A great piece of advice considering nothing relevant manages to be said here.