A Hero | 2021 Cannes Film Festival Review
Purse First: Farhadi Brings Agony and Ecstasy in Latest Social Drama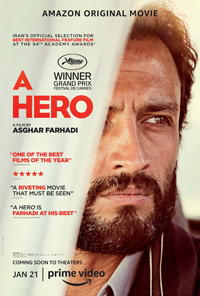 Robert Burns' eternal passage, cribbed by Steinbeck, "the best laid schemes o' mice and men / Gang aft a-gley," comes to mind in the agonizing new melodrama from Iran's Asghar Farhadi. Arguably a return to form, and his most masterful effort since his 2011 breakout A Separation, A Hero hews closely to the formula he's known best for, rippling social issue dramas as anxiety laden as any thriller dealing with often impossible fall out involved with any kind of 'questionable' situation in modern day Iran. Farhadi's expertly tuned script may court criticism for obvious similarities scattered throughout his body of work, which includes eight previous films. However, there's no denying the potency of his abilities working within and against the rigidity of his native country. Primed to invoke maximum frustration, it's an endless labyrinthine oscillation between the hammer and chisel of authoritarianism and the ostentatiousness of others. Pity the fool dependent upon social justice or the kindness of others.
Rahim (Amir Jadidi) is serving a two year prison sentence for an unpaid debt. Having borrowed money from a loan shark to save his business, his partner absconded, forcing his (now) ex-brother-in-law Braham (Mohsen Tanabandeh) to pay the debt. His inability to repay Bahram after his wife left him, who is now poised to marry another, is keeping him in prison. Granted a two day leave, his current girlfriend Farkhondeh (Sahar Goldlust) delivers a purse she'd found with seventeen gold coins. However, the fluctuating cost of gold doesn't yield as much as they'd hoped, so Rahim makes a desperate attempt at a new scheme to find the owner of the purse in hopes of a reward. Putting the prison's phone number on posted fliers allows the warden and his staff awareness of the situation. Wowed at Rahim's integrity despite his current situation, they use his story as tabloid fodder, which sets off an inadvertent chain of disastrous events for Rahim, with freedom just a hairs' breadth from his grasp.
Amir Jadidi is primed for international success with his turn as Rahim Soltani, the victim of a comically Kafkaesque scenario in a system wholly ambivalent regarding his plight. Comparisons to one of Jafar Panahi's best film, 2003's Crimson Gold, are unavoidable considering the McGuffin of a lost purse. But the devil's in the small print in this taut ethical dilemma. Like Farhadi's greatest hits (A Separation; About Elly), the notion of 'truth' is a slippery slope. As a character eventually remarks ti Rahim, "you didn't lie, but you didn't tell the truth." At the end of the day, all who are involved with Rahim are besmirched.

Farhadi crafts a handful of resilient women around Rahim, including the captivating Sahar Goldust as Farkhondeh, whose love for Rahim is as deep as the heroine of a Greek tragedy or a Grimm's Fairy Tale. As Bahram's indignant daughter, Sarina Farhadi also makes an impression. Eventually, Rahim's move to 'do the right thing' though clearly not for completely altruistic reasons, suggests 'no good deed goes unpunished."
Indeed. Farhadi's overarching theme is an indictment on social media as a tool reinforcing a facade of integrity. What matters is one's online reputation, whether individually or as an organization, forever complicating the spin game. The almost innate ability to effectively communicate despite the endless meetings and exchanges of dialogue is also a cornerstone of Farhadi, and ironically, the film's greatest collateral damage is Siavash, Rahim's son who suffers from a formidable speech impediment. The situation is Biblical in scope with its punishment of the innocent and rewards for the righteous. While bearing similarities to Farhadi's previous films, specifically his two Academy Award winners A Separation and The Salesman, his A Hero is a finely crafted vintage.
Reviewed on July 13th at the 2021 Cannes Film Festival – Main Competition. 127 Mins
★★★★/☆☆☆☆☆