Hey There, Stoli Girl: Theron Crackles with a Cold War Climax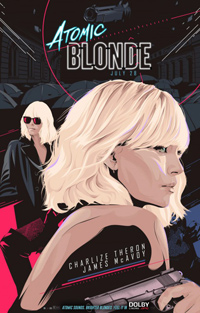 Giving new meaning to the term 'blonde ambition,' Charlize Theron steals the action icon crown with her icy hot turn as a secret agent in Cold War period thriller Atomic Blonde. Directed by David Leitch, one half of the duo who brought us a surprise Keanu Reeves revival with 2014's violent tongue-in-cheek hit John Wick, this stealthy adaptation of Antony Johnston's graphic novel series is a stunning mix of phenomenally choreographed hand-to-hand combat sequences mixed the sleek neon grunge of East Berlin's simmering powder keg of unrest.
Leitch retrofits Theron as a penultimate lethal weapon, less concerned with the femme than fatale, and serves as a leap in the right direction as far as defying the shoddy stereotypes which have defined women in action cinema. Stealing scenes with a thundering physical prowess and styled from head to toe in luscious ensembles reflecting the pronounced fashion of the era, the film arrives hot on the heels of box-office hit Wonder Woman. But Theron ushers in a new age of visibility (and possibility) for women as action icons—she's as steely, confidant and cool as any of the franchise properties bestowed upon her male colleagues.
After a desperate but botched attempt to retrieve an insidious piece of espionage intel known as "The List," a comprehensive rundown of British secret service names and aliases, MI6 agent Lorraine Broughton (Theron) is held in London after returning from East Berlin. With the world focused on the toppling of the Berlin Wall, both the CIA and MI6 are intensely interested in what happened to the information which slipped through Lorraine's fingers, including the whereabouts of her Berlin contact, lauded agent David Percival (James McAvoy), and the tragic circumstances surrounding a Russian defector (Eddie Marsan), who had committed the list to memory. As Lorraine's tale unfolds, a snarled narrative of secret alliances and political espionage unfolds.
While Wonder Woman is sure to be used as the contemporary yardstick to measure the success of mainstream cinema directed, starring, or concerned with women, there's little else besides the challenging of gender norms vs. profits here. Theron's Lorraine Broughton has more in common with trailblazers like Sigourney Weaver and Linda Hamilton (or for that matter, her turn as Furiosa in Mad Max: Fury Road), a woman who utilizes and depends upon her own skills and abilities to defeat and conquer. Far from being merely an antagonistic ice queen (a term often applied to strong, aggressive women as way to demean their success or position, which reflects the staunch double standard faced by women in power), Lorraine Broughton runs the entire spectrum of capability, further enhanced by the blurring of her sexual preferences.
If the neon-lit sex scenes shared with Sofia Boutella (refreshingly present without prosthetics, for once) still retain a lurid, voyeuristic aura, this is far from the vamp tramp camp of something like Showgirls (1995), in which even a female nemesis must contend with dominating her opponent in the battlefield of the bedroom.
While Leitch's Wick co-director has chosen to continue the tried and true path of a budding action franchise, the prowess and potential of Atomic Blonde should not be overlooked, whatever the final box-office tally ends up being. Leitch stages his star in a handful of awesome combat sequences (in which Theron performed her own stunts), including what's perhaps the most subversive use of George Michael's "Father Figure," on blast while Broughton wages vehement savagery upon her opponents utilizing all the items of domestic servitude housed withing woman's demeaned frontier—the kitchen. More daring, she spends most of the film looking like a bruised peach, her darkened flesh dunked into a Joan Crawford ice bath before the fecundity spoils her completely.
If there's any real complaint, (besides a sometimes sketchy British accent on Theron's part), it's the lull of energy in certain segments thanks to the continual return to a framing device whereby Broughton has been asked to explain herself in front of a dry MI6 superior portrayed by Toby Jones and his bemused CIA counterpart, John Goodman. The framing often seems unnecessary, used as a way to feed us exposition which could have been introduced in more subtle, smarter ways (instead, it's like the less smug version of The Usual Suspects crossed with the less campy exploration of Basic Instinct). The same can be said for its coil of double crossings, which eventually become a bit too convenient for comfort (at least if you're looking for the slickness of a Le Carré treatment), opportunely explained away by a repeated phrase, "these relationships are merely a means to an end." Eventually, Atomic Blonde becomes a bit like watching a snake eat its own tail, but it's undulating toxicity is so enthralling, we hardly mind its digestion process.
Theron's co-stars don't hold a flame to her energy, including a dependably kooky James McAvoy as an agent with his own tricks up his sleeve. Marsan and Skarsgard (soon to be seen in the new adaptation of Stephen King's It as Pennywise the Clown) both appear in stagey 'character actor' moments, but Leitch scores bigger brownie points for including some actual celebrities from the German cinema scene, including major star Til Schweiger and the formidable Barbara Sukowa (unfortunately only appearing in one sequence as a curt coroner).
As much praise as Edgar Wright received for Baby Driver, Leitch's Atomic Blonde actually circumvents the traditional order instead of existing as just another celebrated facsimile of New American Cinema techniques starring a white, heterosexual male decked out with a pretentious, overly rehearsed soundtrack.
On the other hand, Leitch's musical approximation of East Berlin, 1989, is perhaps a bit on the obvious side, as it begins with New Order's "Blue Monday," burns steady with David Bowie's "Cat People" (which, of course, was for the underrated Paul Schrader remake and recycled by Tarantino for Inglourious Basterds), and then the German language version of one hit wonder Peter Schilling's "Major Tom," before unspooling a variety of overly familiar period tracks for an otherwise 'uber' cool, 'sehr' retro rendering of a mysterious, imaginative, and vibrant historical period.
DP Jonathan Sela, who worked with Leitch on John Wick, makes Atomic Blonde an obvious sister film in spirit, hanging on Theron's striking visage in the neon sheen of the underground night magic of Berlin.
★★★/☆☆☆☆☆