Who the F**k is That Guy? | Review
When The Music Stops: Stone Plays Ghostwriter to Alago's Autobiography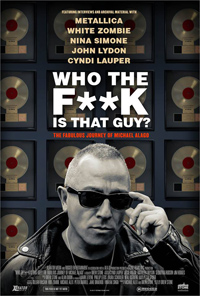 Ripping power chords and grainy black and white photos contextualize the atmosphere of the vibrant and chaotic music scenes of 1970s-into-the-90s New York City, primarily taken through the passionate lens of one man. Helmer Drew Stone (All Ages: The Boston Hardcore Film) boldly posits that without Michael Alago's inclusion in the history books, American music, especially heavy metal, would not be as it is. Ambitions are lofty in Who the F**k is That Guy?, which flourishes in selling the emotional resonance that is tied to the musical icons of that era, but ultimately comes across as inept sans a comprehensive thesis on this specific music category or full portrait of its enigmatic focal point.
Alago's life is chronicled through several pinnacle stages by Stone. Beginning with his childhood as a Puerto Rican in Brooklyn, his career as A&R executive working with the likes of Metallica and Nina Simone told in tandem with being outwardly gay in a homophobic industry, his self-destruction from addiction and disease, and concluding with his current day to day routine. Revisiting landmarks that are the make up ofhis rise, stock footage, photographs, and interviews ranging from Lars Ulrich and Cyndi Lauper to personal friends, family and Alago himself are interweaved in this timeline.
Forging blatant explanations, the docu is defying traditions with off-kilter camerawork and deep focus photography. Coupled with spectator moments on street corners with Alago recalling his glory days, some outstanding comical animations by Tim Thomas are effective in capturing some of the more vivid and colorful details. Interviews are mishmashes of supercilious egos, an all-encompassing adoration for music, and thought-provoking tragedies. Music fans will dig this trove. The majority of his backstory is arranged to be generalized, which is a tad superficial and far too brief. Incessant tonal jumps and ineffective segues between what are padded walks down memory lane derail each story arc that Stone attempts to layer.
Who the F**k is That Guy? postulates one man's passionate history and his intrinsic value within the industry, and this is fairly accurate in approach. Stone's passion and respect for his subjects is evident, but without substantive details it's makes for an odd attempt when simultaneously capturing the essence of music and connecting it to a type such as Alago. While a unique introduction to the life and times of this industry player, the docu falls short of delivering on its premise, and ends so abruptly that the more apt question might be "is that all?"
★★½ / ☆☆☆☆☆