From the Land of the Moon | Review
The Spa of Loneliness: Garcia's Clunky Wartime Romance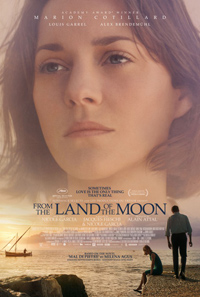 Though she's perhaps still best known as a prolific actress, Nicole Garcia has quietly built an impressive filmography as a director over the past several decades. For her eighth feature, From the Land of the Moon, based on a novel from celebrated Italian author Milena Agus, she lassoes her most notable cast since the 1998 Catherine Deneuve starrer, Place Vendome. But not even the attractive combination of Marion Cotillard and Louis Garrel locked in the throes of a doomed romance are able to overcome the extremely clunky scenario which coats every possible sequence with suffocating melodrama. Horrendously overwrought, the film seems an attempt to resurrect the hampered beauty of compromised Hollywood 'women's pictures' of the 1940s, and its weepie heroine seems outfitted for the passive, melancholic wiles of a nubile Joan Fontaine vehicle.
Gabrielle (Cotillard) comes of age in a small village in the south of France, enamored with her teacher, who she believes shares requited feelings for her. But once scorned, she falls into a feverish depression leaving her parents and fellow villagers to believe her mad. But an arranged marriage with hunky Catalan import Jose (Alex Brendemuhl) leads to an uncomfortable daily existence wherein her highly sympathetic spouse is forced to visit prostitutes on the weekend due to Gabrielle's refusal to consider loving him. When it is discovered she suffers from a kidney stones (a disorder referred to as 'evil stones,' aka the original title of Mal de Pierres) following a miscarriage, she is sent to the Alps to recover in a spa. There, she meets the ailing veteran Andre Sauvage (Louis Garrel), a handsome young man she finds herself immediately attracted to. However, once she recovers, she is forced to return home to Jose. Pregnant, she announces to her husband she has fallen in love with another, and will return to Andre once he is released from treatment and is well enough to retrieve her. But months later, after hundreds of passionate letters, her posts are returned and she no longer hears from Andre. Years later, when her son is an adolescent, an opportunity regarding Andre startles Gabrielle from her accepted stupor.
Although Cotillard is a considerable presence, her emotional register is wasted on this crushingly dull melodrama which requires an awful lot of quietly tearful close-ups concerning her unhappy arrangement. But there's an unfortunate lack of dramatic tension thanks to Brendehuhl's unfathomably sympathetic husband, who agrees to marry the troubled beauty on her own peculiar terms.
Worse is the cliché ridden romance we're supposed to believe transpiring between Cotillard and the sickly Garrel, whose handsome visage is only consistently diminished by baggy eyes which seem about as serious as a the cosmetic consequences of a hangover. Their stilted connection recalls an old-fashioned tradition of war time romances from simpler times, when unhappily married women found solace in the arms of men intellectually and romantically superior to their working class husbands who, at best, only appreciated their wives for their incredible physical attributes. Except Brendemuhl strikes the most sympathetic register here, accepting Cotillard's uncompromising neglect without complaint.
Clipping along at a stifling pace, logic flies out the window in a series of third act twists which negates the hollow romance we've been ponderously wallowing in for the previous one hundred minutes. Blindly formulating false emotional sentiment around a wildly silly dramatic reveal, From the Land of the Moon is more alien in its depiction of human communication than it knows. Cotillard's emotional energy is wasted in Garcia's capably directed romantic drama, which is visually polished by Christophe Beaucarne, though his glossy frames actually create an accidental desolation in the film's jagged void of unlikely drama.
Reviewed on May 15th at the 2016 Cannes Film Festival – Main Competition. 122 Mins.
★/☆☆☆☆☆