The Last Seduction: Coppola Eschews Subtext with High Profile Remake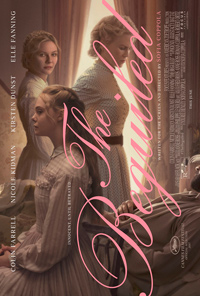 Claiming to be a closer adaptation to Thomas Cullinan's 1966 novel than the famed 1971 Don Siegel version starring Clint Eastwood, Sofia Coppola's remake of The Beguiled unfortunately seems a missed opportunity. It's unclear what the deciding factor was for the director to tackle this highly regarded obscurity from Siegel's filmography, as she foregoes an enhanced feminist undertone for what seems a newly refurbished yet regressive take on material which dealt so perversely with racial and gendered disparities. A southern gothic psychodrama about a deserting Yankee soldier trapped in a school full of sexually repressed schoolgirls lorded over by a religiously inclined headmistress in Civil War era Virginia, this new version retains the narrative's general air of perversity but foregoes the formidable textures which made the earlier version so bold.
In the second year of the Civil War, a Southern Girls' boarding school run by Miss Martha Farnsworth (Nicole Kidman) receives an unexpected guest in the form of a wounded Yankee soldier, Corporal John McBurney (Colin Farrell). Sending the young women into a frenzy of speculation as they ponder whether they should turn him in to Confederate troops passing by, they ultimately decide the Christian thing to do would be to let his leg heal before sending him off to certain death. The Corporal's handsomeness certainly seems to be a deciding factor, tapping into the rigid headmistress' sympathies, as well as those of her head teacher, Miss Edwina Findlay (Kirsten Dunst). But as the soldier heals, he charms each of the young women, leading to a tragic clash over who will have him…or whom he will have.
Those familiar with the Siegel/Eastwood version should recognize immediately the inherent problems of Coppola's pretty but notably less subversive remake. The most glaring issue is the casting of Nicole Kidman as Miss Martha, which is not to say there's anything to fault in the actor's performance. In fact, Kidman is quite entertaining and steals most of her scenes, particularly in a The Little Foxes type death stare in the dramatic climax (while a tendency to utter French phrases recalls Shelley Winters in Lolita). However, Kidman is usurping a role played memorably and with great relish by the inimitable Geraldine Paige, whose Miss Martha was a ripe old conniving biddy past her prime.
Kidman is as arrestingly beautiful as ever, so the Corporal's decision to ignore her flirtations in his desperate skin game of survival makes no sense—she has the keys to the kingdom and is ravishing to boot. Coppola also cuts out all the delightfully insidious perversities of the earlier film, such as Miss Martha's dead brother, with whom she engaged in an incestuous love affair. Likewise, Coppola foregoes the slave/maid character Hallie, memorably played by Mae Mercer, whose racial other is sympathetic to the Corporal's predicament and also, interestingly, subjected to his wiles (not to mention the pointed predilection for the more youthful women which isn't as evident this time around).
But if The Beguiled exists for an audience outside of the earlier film and a laundry list of significant issues of comparison can be blissfully ignored, then Coppola would seem to have something of an amusing black comedy on her hands, albeit one which refuses to push the envelope regarding female subjugation and the hierarchy of desirability (again, which becomes muddled by the casting). If Elle Fanning is convincing as the willowy nymphet who causes all the trouble, poor Kirsten Dunst (stepping in for Elizabeth Hartman of A Patch of Blue) gets the shortest shrift as an emotionally vulnerable lonely heart who exists as a series of incomplete sketches here. And then, there's Colin Farrell, whose Irish accent is accounted for in the new script, and who reunites with Kidman after their pairing in The Killing of a Sacred Deer.
Surely handsome enough to set a houseful of women on competitive edge for his emotional and sexual consideration, Farrell is not allowed to be as convincing after a tipping point which sees the removal of his leg—in other words, his characterization is also negatively affected by the imbalanced casting of a film which requires different sets of feminine aesthetics, all muddled into one beautiful whispery blonde note here. A soundtrack from Phoenix is surprisingly cohesive, and DP Philippe Le Sourd enhances the lazily vegetative feel (sometimes a bit too much in the set-up) of the lush deep south. Still, there's enough strangeness intact in The Beguiled to warrant a look, even if it should really just drive audiences towards a recuperation of one of Clint Eastwood's strangest films.
Reviewed on May 24th at the 2017 Cannes Film Festival – Main Competition. 94 Mins.
★★★/☆☆☆☆☆