Black Cat, Nine Lives: Coogler Clocks a Milestone with Exemplary Marvel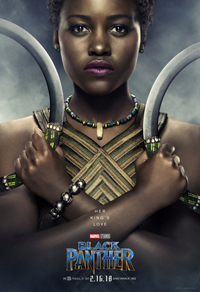 Rare is the opportunity to be surprised by anything studio related in mainstream American cinema, particularly with the endless onslaught of superhero films, whether they be reboots, mash-ups, origin stories or standalone films. However, like Patty Jenkins' Wonder Woman before it, Ryan Coogler takes Marvel's Black Panther and manages to make it something distinct and unique, all while working within the confines of studio blockbuster syndrome. The answer, much like some elements in the latest Star Wars films, is a passionate grounding in characterization and meaningful narrative. An emboldening symbol of resistance in our current troubled times, Coogler, working from an impressive screenplay he co-wrote with Joe Robert Cole, weaves an exemplary number of tangents and storylines into an efficient, joyously paced wonder which showcases an almost entirely black cast (a rarity with American tentpoles which will one day no longer be a distinction, or the only anticipatory blessing of a feat such as this), including a trio of formidable women who carry the bulk of a narrative which begins in 1992 Oakland and sails us into the imaginary African paradise of Wakanda.
T'Challa (Chadwick Boseman) is forced to return home after his father, the King of Wakanda (John Kani) is killed. While the circumstances of his father's death weigh heavily, he commits to the ceremony expected by his people, assembling his estranged ex-girlfriend Nakia (Lupita Nyong'o), who has been serving as a spy abroad. Greeted warmly by his mother Ramonda (Angela Bassett) and sister, the technological savant Shuri (Letita Wright), T'Challa successfully beats opposing challenger M'Baku (Winston Duke) for the throne. But when Ulysses Klaue (Andy Serkis), a significant enemy of T'Challa's father steals an artifact containing Vibranium, the secret resource which has allowed Wakanda to exist and flourish in complete isolation from the rest of the world, the chance for retribution is nigh. However, it's discovered Klaue is working in conjunction with the malevolent Erik Killmonger (Michael B. Jordan), a man with a significant axe to grind.
Grounded in the realism of xenophobia, cultural disconnection, and the virulent racism which continues to be a taboo topic in mainstream considerations of people of color, there is an overwhelming emotional undercurrent to Black Panther absent from most modern super hero cinema (again, there's a case for the sexism and misogyny Wonder Woman similarly addresses, but not to the degree achieved here). What so easily could have fallen into a sort of blaxploitation nadir, (think J.D.'s Revenge meets The Lion King), becomes a vehicle of gratifying dimensions and ethereal beauty in that Coogler has managed to best a genre which has heretofore relegated notions of diversity to an affable version of tokenism.
Neither preachy nor militant (although the infamous Black Panther group of the 1970s can't help but be invoked by Killmonger's understandable vehemence and desired race war), there's nary a false moment of sloppy exposition or lukewarm tenderness in this heavily plotted, time-spanning storyline. Instead, Black Panther is performed with all the same tenor as a Shakespearean tragedy, issues of familial obligation, fate, and impossible rifts creating the dramatic vortex underneath a greenscreen veneer which creates moments of fleckless beauty courtesy of the continually impressive cinematographer Rachel Morrison (currently Oscar nominated for Mudbound and who previously worked with Coogler on Fruitvale Station).
Boseman strides through Black Panther with regal swagger, brandishing a potent energy, knowing when less is more. If the chemistry with Lupita Nyong'o is told rather than shown, they share a winning affability, perhaps best exemplified in an underground South Korean casino which rivals a James Bond set piece. However, Nyong'o's best moments are typically shared with Danai Gurira (an underrated performer, who headlined Andrew Dosunmu's Mother of George, 2013, and who finally has the chance to break out on her own here). Solid support from Get Out's Daniel Kaluuya, Angela Bassett (striking with her white dreads), and Forest Whitaker, the latter two adopting more-or-less workable accents, often pale in comparison to the energetic Letitia Wright as Boseman's sister. It's a role which could have been easily denounced as spunky, but Wright carries the film's comedic energy with aplomb, colonizers be damned.
Often absorbing most of the film's more prescient themes, however, is Coogler's favored collaborator Michael B. Jordan, who headlined both Fruitvale Station and Creed. His character makes a fitting extension of the slain Oscar Grant in Fruitvale, energies and vestiges resurrected as a blistering, bitter, angel of vengeance. The Oakland subplot is something which could have been simply predictable but is instead used for pronounced emotional affect in the film's grand climax (a sequence between Jordan and Sterling K. Brown is poignant as it is unsettling in how it evokes the complexity of anguish, hopelessness, and planting the seeds of vengeance). More so, Coogler's back story for Jordan recalls the final, unforgettable moments of Michael Curtiz's 1950 classic The Breaking Point, in which a small brown boy is left orphaned and alone by a cruel and uncaring world after his father, a supporting character is sacrificed to the white narrative.
That said, Black Panther is perhaps more powerful in what it doesn't say (particularly with the handling of a white character like Martin Freeman in showcasing how the ability to assist the cause of others does not mean overwhelming their narrative or identities). A mixture of cobbled together mythologies and the powers of Vibranium are set-dressings rather than crutches, thus allowing for the film's loftier messages about sharing wealth and resources (plus, not to mention allowing a maniacal neophyte the keys to the kingdom through certain loopholes in archaic traditions), to remain obvious yet potent.
It's a super hero film which could be called revolutionary or important. But more so, Black Panther provides what nearly all super hero movies could not since the original inception of Super Man on television—a beacon of hope during dark times, delivering possibilities which heretofore had not been allowed to exist in the same capacity, arriving in a format dominated too long by the same perspectives.
★★★★/☆☆☆☆☆