Organ Trail: Grant Goes Haywire with Oversight on the Overnight Shift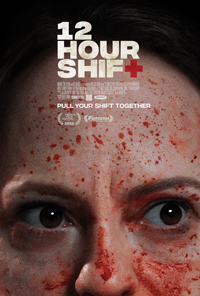 Organ trafficking usually isn't the focal point of a comedy, even a dark one, which automatically makes actress Brea Grant's screenwriting and directorial debut 12 Hour Shift a marvel of the grotesque. That she employs Lucky McKee muse Angela Bettis as her beleaguered lead is another reason for the price of admission.
Basically positioning a slasher-tinged genre effort as a comedy of errors, it's a novel scenario which never quite reaches the heights of its promise, strangely preferring to stay in a certain realm of the demure and diminutive rather than the excessively over-the-top energy it requires for a pay off which should have felt more Grand Guignol than it does. Still, some amusing character work and likeable performances affords it a cheapie B-movie vibe which should sustain late-night interests.
Little does nurse Mandy (Bettis) know how chaotic her double shift at an Arkansas hospital one inconsequential day in 1999 is about to become. Throwing herself headlong into the extracurricular activities which keep her afloat physically and financially, after her usual binge of some good strong uppers, she embarks on the next item of her agenda, commiseration with Karen (Nikea Gamby-Turner) as they discuss their next 'target.' It seems the two nurses have a bit of a good thing going with Mandy's cousin (by marriage) Regina (Chloe Farnworth). Karen and Mandy find a potential patient who doesn't have any friends or family then inject them with bleach and harvest organs sought after by a nefarious ring of criminals run by Nicholas (Mick Foley). Regina serves as the go-between, but on this particular night, she forgets a whole bag full of miscellaneous organs by the vending machine in the back of the hospital and Nicholas sends her back for a kidney he really needs (which has technically already been paid for). However, the design of the nurses' 'operation' doesn't work so quickly, and with the bag of organs having disappeared, Regina decides to take matters into her own hands and cut one out of a patient herself. Meanwhile, a shackled patient (David Arquette) who has killed a police officer arrives, along with a security escort, and Mandy's own brother shows up unconscious after another fatal overdose.

Bettis remains an underrated, unadulterated cult figure, starring in McKee's items May (2002), The Woman (2011) and his Masters of Horror episode "Sick Girl" (2006)—in turn, she cast him in her directorial debut Roman (2006), a weird little indie genre piece which also featured Kristen Bell. She's worked for Tobe Hooper (The Toolbox Murders, 2004), played Carrie White in a 2002 version of the Stephen King material, and once in a while finds herself in an odd indie effort from a new filmmaker, such as All My Friends Are Funeral Singers (2010).
For Grant's purposes, Bettis is the glue which keeps this operation running even when we're really waiting for everything to run completely off the rails. That's not to say there isn't gore and violence, but it's a subdued, maudlin sort, and as such, Bettis eventually seems a bit underutilized. Her jittery, bug-eyed Mandy recalls something like Martha Plimpton with just the wisp of a Holly Hunter drawl.
Although initially grating, Chloe Farnworth ends up being a scene stealer as the hapless dumb blonde Regina, whose approach makes the film veer towards (though never fully) Nurse 3D (2013) territory. As a Black woman unfortunately named Karen, Nikea Gamby-Turner is a pleasantly entertaining surprise, while David Arquette has little do beyond what's predicted of his cop-killer character (he and his wife Christina McLarty Arquette are two of the project's producers).
As far as explorations of the cruelty of grifting healthcare situations and the resulting human collateral damage, this should have more effectively mainlined empathy for at least one character (which is why J. Blakeson's 2020 title I Care A Lot ultimately feels so irksome). Unfortunately, though it recalls a host of hospital genre films (namely 1981's Halloween II), the production design and cinematography feel mercilessly cheap. Yes, it's set in 1999, but the picture quality doesn't necessarily suggest it more than it depends upon the period as an excuse for its veneer. DoP Matt Glass was also responsible for the score, which also is curiously absent from several sequences which could have been enhanced by persuasive musical cues.
★★/☆☆☆☆☆