Are the Voices in Your Head Calling, Gloria!: Taymor Tackles Feminist Icon in Peculiar Biopic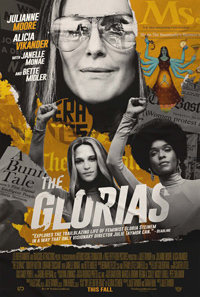 If there's an art to the crafting of a biopic, usually thinking outside the box is beneficial for achieving both the essence of the subject as well as maintaining interest for the audience. With Julie Taymor tackling the subject of feminist icon Gloria Steinem from the activist's own 2015 memoir My Life on the Road, the sky would seem to have been the limit for what The Glorias might look like.
And it would appear as if Taymor had carte blanche in finding a way to paint a comprehensive portrait of Steinem. But despite employing a fascinating device of insular correspondence with Steinem's own selves, the script, co-written by first time screenwriter Sarah Ruhl, is riddled with cliched tendencies while some of Taymor's usual grandiloquent flourishes are sometimes distracting and even cringeworthy. At best a mixed bag as regards the impressively subversive figure at its center, at two-and-a-half-hours it ends up being a case in point for less being more.
Spanning the life of Gloria Steinem from girlhood to present, four actors portray the noted activist, writer, and champion of women's rights at various stages of her life (Ryan Kiera Armstrong, Lulu Wilson, Alicia Vikander and Julianne Moore). Presenting notable instances from her childhood, including with her parents (Enid Graham, Timothy Hutton) and her teenage years, the narrative spends a majority of the time on Steinem's breakout as a young woman writing for Show magazine, which published her breakthrough expose on the treatment of Playboy Bunnies before her ascension to iconicity through the founding of Ms. magazine.
Lensed by Rodrigo Prieto (Brokeback Mountain, 2005), the visual textures attempting to convey complexities of Steinem's interiority beyond her languid, unruffled persona eventually begin to seem a bit vague, even cheap. A vibrant red cyclone involving all the Glorias as they madly swirl to the The Wizard of Oz soundtrack in an effort to reflect the rage she can't express during a lecherous interviewer's demeaning commentary, while very much a Taymor tactic, ends up feeling sloppy (compare, for instance, the graceful, arresting compendium of such vivid sequences in her 1999 debut Titus which elevate what many consider to be Shakespeare's least popular play into a cannibalistic opera—but that's Shakespeare and this is Steinem).
Even compared to similar textures in Frida (2002), it just feels like The Glorias ends up repeating itself, nearly drained of any real pizzazz until Lorraine Toussaint and Better Midler show up as the vibrant orators Flo Kennedy and Bella Azbug, respectively (Janelle Monae is a bit underutilized as Dorothy Pitman Hughes).
While the notion of Gloria interacting with herself across different time periods in a non-stopping bus, an obvious but meaningful metaphor for life, it's also resorted to sporadically. We spend so much time on her childhood it begins to feel unnecessary, at least in how we're led to view the creation of Steinem as a public image, first as a younger woman played by Alicia Vikander (who struggles with Steinem's pronounced accent).
Julianne Moore is somewhat of a saving grace, channeling Steinem as a visual and verbal presence, and one wonders how this might have played had we only focused on this period of Steinem, with minute flashbacks to previous instances. A sequence with Lulu Wilson as pre-teen Gloria involving her interaction with a young, friendly Black girl is wholly superfluous, but seems to be priming the audience as an explanation for why Steinem was so outspoken on race issues and equal rights—but this moment tells us nothing—simply to convey Steinem's beliefs about race and equality was and is enough.
In short, if there is no profound occurrence to explain why a white woman might believe in racial equality, then there's no way to make something profound of what should be given rationale anyway, which is really, boiled down, the intriguing but simple enigma of Gloria Steinem. These qualities make The Glorias feel redundant when its subject is anything but.
★★½/☆☆☆☆☆