Goodbye Horses: Chopra's Nonsensical English Language Debut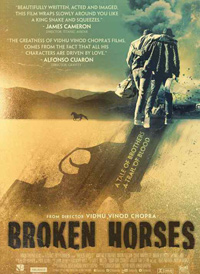 The point of Bollywood director Vidhu Vinod Chopra's English debut Broken Horses seems lost, along with a whole host of other cinematic necessities, in translation. A sort of remake of Chopra's 1989 film Parinda, the action is transposed from Mumbai to the US Southwest Border circa 9/11, using a metaphor of brotherly discord to reflect the cultural shift toward dehumanization that occurs in the wake of both large and small scale violence. With several well-known cast members in the mix, the film's biggest mystery is how none of them questioned the implausibility of their character's dialogue and a staunchly illogical narrative before or during the making of the film. Hovering somewhere between the realm of watchable camp and stilted, po-faced sermonizing, the final product is insignificantly bizarre.
When their father, lawman Gabriel Heckum (Thomas Jane) is unscrupulously gunned down by someone in front of his handicapped son Buddy, the young lad is forced to crash younger brother Jacob's violin recital with the bad news. As Jacob is a musical prodigy, he's sent off to a fancy school in New York while Buddy stays behind, warped into a criminal by the town baddie Julius Hench (Vincent D'Onofrio). Fifteen years pass and Jacob's engagement to his fiancée (Maria Valverde) prompts his first visit home. Guilt washes over him as he sees what has become of Buddy and he vows to take the troubled man back to New York with him.
Who knows why Chopra chose to make a modern Western noir update as his English language entry, as its reflection of modern day border conflicts may as well be representative of another planet's imbroglio. It doesn't help that Chopra's portrait of a handicapped henchman is so god awfully rendered that Chris Marquette's attempt to gnash and gnaw his way through the scenery is akin to watching a small, desperate animal claw its way out of a mechanical trap (in truth, it's not the worst portrayal of a handicapped individual to hail from Bollywood, as Karan Johar's 2010 film My Name is Khan certainly trumps even this).
Chopra's character names are equally conspicuous, with Thomas Jane's lawman named Gabriel Heckum barely having to contend with one scene before the film is delivered into the hands of Vincent D'Onofrio's (in regular malicious mode) Julius Hench. Anton Yelchin gets saddled with playing every scene on an unwavering plateau of concern, while Maria Valverde (questionably cast considering her character is supposed to be Italian) provides unnecessary distraction as his put upon girlfriend abandoned in New York during Operation Rescue Brother. Even more perturbing is Sean Patrick Flanery as the improbably named Igancio, Yelchin's former music teacher, crippled by D'Onofrio's cruel Hench, confined to a rudimentary motorized wheelchair contraption, cursed to live like a fairytale hermit.
As lensed by Clint Eastwood regular DoP Tom Stern, Broken Horses looks carefully crafted, and if watched without sound, appears to be a handsome looking film (even with serviceable special effects in a great big blow out). Marquette's anxious gee-golly-me characterization of a man as easily convinced to engage in cold-blooded murder as he is uttering his favorite pet phrase "Bananas!" may attract a certain crowd looking for unintentional laughs, but Broken Horses plays like a jumble of ill-conceived notions.
½/☆☆☆☆☆