Coincoin and the Extra-Humans | Review
E.T. Clone Home: Dumont Gets Delirious in Sci-Fi Themed Series Sequel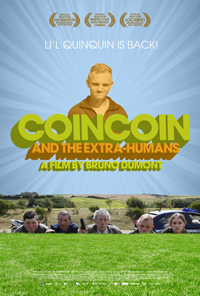 Ever the nonconformist, French auteur Bruno Dumont seems to be in the midst of an exceptional renaissance. Just as his first two films (1997's The Life of Jesus and 1999's Humanite), have been re-released and restored courtesy of Criterion Collection this year, Dumont returned to Cannes in Un Certain Regard with his musical-themed continuation of French icon Joan of Arc while his 2018 Locarno premed Coincoin and the Extra-Humans reaches a theatrical release. However, the juxtaposition between his early and current works is pronounced considering Dumont made a name for himself in austerity, working with non-professionals mired in gloomy narratives which felt more like documentaries. In his twenty-plus years of filmmaking, Dumont has mutated from these uncomfortably acute intimacies into desperations tinged by the absurd.
If his earlier works felt like Pialat, Dumont has, for the past several years now, morphed into projects which play like Robert Bresson and/or Jacques Tati topped with a layer of John Waters. A turning point in his filmography was 2014's Li'l Quinquin, a four-part miniseries which premiered in Director's Fortnight at Cannes and revived Dumont as a potential cult filmmaker. From there, he went on to camp schlock in Slack Bay (2016) and then an art-house Straub-Huillet inspired musical for Jeannette, the Childhood of Joan of Arc (2017). Much as he's revisited the teenage awkwardness of Joan with the same actress, Dumont develops Quinquin, now a teen who goes by the name of Coincoin. And it appears aliens have begun to visit the rural hinterlands of the Opal Coast.
Four years after a murderer swept their quaint climes, those residing near the Côte D'Opale are treated to something much stranger. Now a teenager, Coincoin (Alane Delhaye) finds his crush on Eve (Caron) destroyed when it's revealed she is interested in Corinne (Priscilla Benoist). As these minor crimes of the heart are waged, Coincoin and his friend Fatso (Julien Bodart) illegally post fliers for the nationalist party Le Bloc. Meanwhile, large, black splotches of tar-like gunk are falling from the sky, a magma immediately recognized to be not of this world. Those it touches eventually sprout doubles of themselves. Unwieldy duo Van der Weyden (Bernard Pruvost) and Carpentier (Philippe Jore) grapple with an investigation into these strange occurrences.
With returning principal cast in tow, Coincoin feels a bit more amorphous as compared to the rural murder mystery which held Li'l Quinquin together. However, this latest venture also feels zanier and a bit more buoyant as the result of this extra-terrestrial magma falling from the sky takes quite a while to turn into something as morbid as the murders in the previous film or, say, the incestuous aristocrats and creepy cannibals of Slack Bay (which similarly highlighted the bizarre colloquialisms and naming tendencies of a particular region). No, this is pure weirdo fuel, with Dumont aping on Invasion of the Body Snatchers antics, with the unfortunate victims of the invading space gunk giving birth to their own undecipherable (and equally vacuous) doubles before descending into a zombie plague and a creepy carnivalesque dance party celebration of death.
As with the earlier project, Dumont explores the pronounced racial and sexual politics of the region. A gaggle of immigrants wander in and out of sequences, with Van der Weyden usually waving his gun around at them and yelling his gibberish, which reaches its zenith when the muck takes him and gives him a startling guise of blackface. Likewise, Coincoin notably features a lesbian couple, which seems confounding to Van der Weyden only for the confusing gender presentation of Corinne.
The series, like its predecessor, is basically a bumbling group of vignettes which all revolve around a comedy of errors and rampant miscommunication, which Van der Weyden, himself a confounding source of mispronunciation (clones are 'clowns' and Proust is "Prout," not to mention countless mismatched idioms), chalks up to people either suffering strokes en masse or being drunk. While this all may sound rambling and unappealing, Coincoin is actually a lot of fun, and Bernard Pruvost remains endlessly watchable as the bumbling, Tatiesque Van der Weyden. Dumont packs some action and visual effects into this follow-up, which adds to the film's strange imbalances and unpredictable energy. As the titular Coincoin, Alane Delhaye, like his earlier performance as Quinquin, is merely a part of the communal tapestry, a figure in this strange panorama which somehow manages to poke fun at French culture, religion, politics (Le Pen seems to be a referential footnote for Le Bloc, the nationalist party favored by the denizens) and various cinematic reference points. Diffusely organized yet immersive in its ability to entertain, Coincoin and the Extra-Humans is a beguilingly strange new chapter from the prolific Bruno Dumont.
★★★★/☆☆☆☆☆