The Days to Come | 2019 New Horizons Intl. Film Festival Review
Becoming a We: Marques-Marcet Keeps it Real with a Micro-Drama of Love & Pregnancy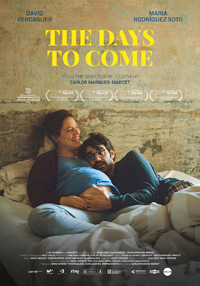 Completing a trilogy of sorts about life getting in the way of a relationship, Spanish helmer Carlos Marques-Marcet charts the progress of an unplanned pregnancy in a film literally born out of his previous feature, during which actors and real-life couple David Verdaguer and Maria Rodriguez Soto learned they were expecting a child. Without missing a beat, and going for the raw, unfiltered intimacy that you can't falsify, the three of them commit the experience with The Days to Come — a linear but powerful journey from discovery to birth. The stripped-down approach rings consistently true and leaves no stone unturned in the vast emotional territory of the genre, touching on class, sexuality, memory and gender expectations. There's a lot that Marques-Marcet and his actors are selling, but ultimately they don't have to, because this reality here sells itself.
Distance and displacement were the real and inescapable hurdles that characters in 10,000Km and Anchor and Hope, the director's previous two films, had to overcome. Evidently keen on exploring relationships through the lens of difficulty, Marques-Marcet is simply advancing to the next stage of the conventional, heterosexual love-story roadmap with an unexpected pregnancy that shatters the comfortable, carefree lives of Barcelona couple Vir and Lluis. Their relationship is still young enough that they haven't been on holiday together, but sufficiently developed to make them aware of how unprepared they both are to be parents. Having decided to move forward with this adventure in a millennial-cute, noncommittal way ("I know that I don't not want this"), Verdaguer and Soto gently invite the viewer in with a disarming, nuanced two-hander performance. It soon becomes clear that the pregnancy, and the bond between the two, is real – a fact that inevitably leaves audiences to grapple with a voyeur role that feels as uncomfortable as it is, in many ways, natural.
Vir is herself experiencing something similar, with a tape of her own birth (also authentic) providing a soothing, centering catalyst for her struggles with motherhood. This generational mise-en-abyme of the real is what makes the film, which never has to be more than what it can reach for, in the same way that Vir and Lluis are left sitting in their bedroom to consider their new purpose, scary but self-evident.
"We will fight, and then forgive each other, and love each other," says Lluis to the unborn child so that the mother heeds the advice. And that's what the film, in its simplicity, does too, staging countless variations of believable arguments about jobs left and jobs taken, communication issues, and fears of the future.
The fate of the relationship itself is called into question, but the two actors' faces are the first to reveal it as part of a growth process rather than a real conflict. Marques-Marcet follows along dutifully with his camera, absorbing the empathy of the situation even more so than light. By the time we get to the hospital, the presence of this strange object intruding on the most private of moments feels completely resolved, finally paying back the characters by letting them experience the moment without worries of its preservation.
Reviewed on July 27th at the 2019 New Horizons International Film Festival – Discoveries section. 95 Minutes.
★★★/☆☆☆☆☆