Bloody White People: Kent Hits Hard with Brutal Revenge Trip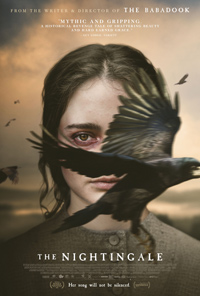 Jennifer Kent follows up her formidable debut The Babadook with a less inventive, but decidedly more controversial parable of attempted revenge set in 1820's Tasmania. While this brutal portrayal of violence might raise eyebrows, especially in conjunction with a focus on reclaimed agency by women and minorities that could easily be trivialized in these dark times, The Nightingale is an assured piece of filmmaking with a lot of nuance beneath the primordial emotions floating on its surface.
It starts like a Zama-esque colonial tale of nightmarish abandon and grim despair, in which indifference breeds cruelty. And just like in Lucrecia Martel's latest, lives are perpetually drawn out by the promise of certain piece of papers always on the verge of arrival, or simply for the right order from high-ups to trickle down the severely weakened chain of command. That is the case for protagonist Clare (Aisling Franciosi), a young Irishwoman who has served her sentence in the penal colony of Van Diemen's Land, where she was forced to work as a servant for seven years. Ironically, that also applies to her tormentor and master, Lieutenant Hawkins (Sam Claflin), who has been waiting for his own liberation of sorts for three years, in the form of a promotion and a move to a different outpost.
Casually hideous and a monster by way of boredom, Hawkins routinely rapes and abuses Clare, usually once she finishes performing beautiful Irish songs at the local inn. Hawkins' cruelty, and that of his men, knows almost no limits, and Clare's husband is about to reach a tipping point despite the presence of their newborn baby, which would suggest a more cautious approach for the safety of everyone involved.
Kent does her best work in this first part of the film, depicting a hell with no escape in a novel light, and alternating the golden hues of the harrowing inn interiors with the strong silhouette of a blue moon standing indifferently just outside. And despite knowing exactly how bad things are going right from the get-go, it is still profoundly uncomfortable to see it all unfold. In many ways, it's a cinematic experiment in maximizing the effect of audience reactions, with a couple of moments unavoidably eliciting the strongest spontaneous response I have seen from a screening room in quite some time.
The Van Diemen's land that Kent uses as backdrop in her film is a miserable, desolate place from top to bottom, as it should be (it was already well captured in Jonathan auf der Heide's Van Diemen's Land, which shares the same sense of bloodied desperation Kent is playing with here). And yet there is also a vein of dark humor in The Nightingale, even in proximity of the most horrific moments in the story. It comes into sharper focus as the film progresses, leaving its initial hellish setting to take the full-on revenge show on the road.
It's a chance for Kent to flesh out the world even more, including the Aboriginal people (different groups come into play, with a tracker named Billy – Baykali Ganambarr – joining Clare on her journey) in this hopeless cycle of destruction and oppression. Broadening the horizon of the violence, and directly linking the injustices perpetrated on Clare with those inflicted on the whole country, doesn't seem all that conducive to an increase in humor; but as Clare and Billy make their way across the wilderness of the island, the full cost of an act of brutality – even an entirely justified one – is intriguingly assessed and interrogated through grotesque and sometimes paradoxical bits of comedy.
The single-purpose, repetitive beat that Kent uses to make her point about violent responses to a tragic loss, and specifically how that response is made all the more intense when coupled with the systemic oppression of women, is undoubtedly a blunt instrument. And while it could certainly be accused of being manipulative, it also feels honest in the way Kent provides some textures around its edges, aided by Franciosi's performance as Clare. It plays with the elements of a revenge fantasy, while constantly undermining it at every turn and even finding the time to debate the placement of the very agency that should execute it. It's energetic and muscular work, but The Nightingale also knows how to look at the fear that makes it so.
Reviewed on September 6th at the 2018 Venice Film Festival – In Competition. 136 Mins.
★★★½/☆☆☆☆☆