Time to Burn: Holland's Magnificent Mini-Series Event Well Worthy of Big Screen Treatment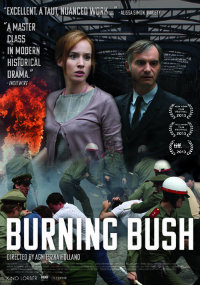 Realized as a three part mini-series for television, Polish director Agnieszka Holland's latest enterprise, Burning Bush, revisits a late 60's historical moment in Czech history, when the country was occupied by Soviet forces. Holland has a broad wealth of war time period pieces under her belt, and her most championed titles generally deal specifically with the Holocaust, such as the brilliant Angry Harvest (1985), Europa Europa (1990), and even most recently, In Darkness (2011). While this latest endeavor has premiered at film festivals and will receive a limited run in New York on the big screen, Holland specifically formatted this richly observed narrative for television. Obviously, it's an extensive format that inspired Holland, for she directed an American mini-series revamp of Rosemary's Baby not long afterwards (and not to mention several episode credits of popular Western television series as well), which already premiered in the US.
Moving beyond the endless reconciliations of World War II savages, Holland moves several decades forward to a cinematically unexplored period in Czech history. In 1969, while Czechoslovakia was occupied by the Soviet Union, a university student shockingly lit himself on fire in Prague's Wenceslas Square, dying four days later from his injuries. His identity determined to be that of Jan Palach, he left behind notes referring to a secret group of angry individuals demanding that the Soviets begin to withdraw or else others will self-immolate in public every five days. This sets off a firestorm of multiple threads. As Jan's brother (Petr Stach) and mother (Jaroslava Pokorna) discover what's going on, Police Major Jires (Ivan Trojan) investigates Jan's actions, pressured into stopping any other human torches from transpiring. While this eventually includes blackmailing one of Jan's ex-girlfriends, Palach's grieving family members are treated to more scandal after his funeral when a member of parliament, Vilem Novy (Martin Huba), prints a scandalous, outrageous statement indicating that Palach was not only mentally unstable but the victim of a protest group's stunt. This leads Palach's mother to sue the Communist MP for defamation of character, and they secure reluctant representation from defense attorney Dagmar Buresova (Tatiana Pauhofova), whose involvement endangers her family's lives and livelihoods.
A historical examination, a procedural, and a visceral, tense look at a period of bleak hostility, Burning Bush is never short of enthralling. Its political scope will remind many of Holland's mentor, Polish auteur Andrej Wajda, whom she wrote several scripts for before branching out on her own to become a key figure in the Polish New Wave. While similar auteur laced mini-series manage a limited theatrical release on top of their intended debuts on the small screen, Holland's three episodes, each ranging from 70-80 minutes, reach an addictive, compelling pitch. Watching them back to back in one sitting feels rewarding rather than taxing.
A superb cast and exemplary performances really inveigle us into the desperation of time and place, with standouts being Jaroslava Pokorna as Palach's grieving mother, and Tatiana Pauhofova as an aggressive lawyer. While the first chapter is emotionally involving, the second installment quickly establishes a menacing thread of conspiracy and paranoia, leaving the lean, third and final portion to bring its simmering tensions to a fast boil. If the outcome feels inevitable, Burning Bush is still an expressive, taught rendering of life under Communist rule, where the sickly sweet promise of basic freedoms are ripped hopelessly asunder as the uncaring occupiers see fit.
Holland and first time screenwriter Stepan Hulik wisely develop the considerable opposition Buresova and the Palach's face against the Communist party, yet still coerce us with a keen sense of rebellious hope. Even as we're forced to cut to twenty years later after the final outcome of this particular dilemma is revealed in 1969, the intentions of Buroseva to buck the significant oppression eventually pays off. As powerfully enthralling as it is emotionally resonant, Burning Bush is Holland's most rewarding film in years, featuring extravagant visual textures as events meld into black and white stylizations emulating archive footage courtesy of cinematographers Martin Strba and Rafal Paradowski (who was DP on Jerzy Skolimowski's last two films as well as Czech Foreign Oscar submission, the noir inspired In the Shadow). Holland's slow burning three hours may be one of the best theatrical releases you'll have the chance to see in the onslaught of belligerent summer time offerings.
★★★★/☆☆☆☆☆