Carnage Knowledge: Keating's Halfhearted Shot at Grindhouse not a Fine Vintage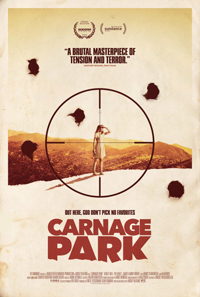 For his fourth feature, indie genre director Mickey Keating attempts a vintage crime/horror mash-up with Carnage Park. Arriving a year after his overworked art-house women and madness homage to Polanski, the black and white apartment complex shrieker Darling, this nose dive into 16mm grindhouse grit initially feels like an inspired about face, its opening act tenderizing those tried and true tropes for a nutty trip off the beaten path. But what begins as a botched bank robbery becomes an increasingly stagnant cat and mouse gambol between a resilient damsel in distress and a psychopathic Vietnam vet across the arid California desert. Significantly attenuated performances from two extremely likeable leads aren't enough to save the narrative from a scrambling spiral into the inconsequential.
In 1978 rural California, criminals Scorpion Joe (James Landry Hebert) and Lenny (Michael Villar) flub a bank robbery, taking customer Vivian Fontaine (Ashley Bell) hostage and stuffing her in the trunk. Fleeing into the desert, Lenny bleeds out from a lethal bullet wound, leaving Scorpion Joe to contend with their ward, a young woman who does not plan on going gently into that good night. As she struggles to navigate her escape, Joe is ruthlessly murdered by Wyatt Moss (Pat Healy), a deranged Vietnam veteran who owns the large expanse of land Joe and Lenny blundered onto. This isn't exactly great news for Vivian since Moss is insane and has actually turned his land into a hunting ground for humans who have ignorantly strayed there.
If Tobe Hooper had decided to remake Dan Aykroyd's Nothing But Trouble (1991) it would probably have played something like Carnage Park. But obvious inspirations taken from either The Texas Chainsaw Massacre or Quentin Tarantino do little to elevate Keating's film, even as it starts off on solid footing for a first act showcasing another perverted weirdo role for Healy and yet another Ashley Bell (The Last Exorcism, 2010) performance too good to be wasted on such an inevitably disappointing narrative. Her sequences with sleazy bank robber James Landry Hebert and bitchy bank manager Bob Bancroft showcase her talents at generating a sort of empathy almost always lacking in contemporary performers in genre. Unfortunately, most of the film requires her merely to react to an increasing amount of grisliness in Healy's outdoor horror house (which includes Larry Fessenden, longtime champion of Keating's, tethered in a bear trap). The bizarre inclusion of Alan Ruck as Healy's enabling law enforcement brother is similarly underutilized.
Keating's usual composer, Giona Ostinelli, reveals a familiarity in giallos with a deliberately conspicuous score. Although it's not quite able to induce the ambience required to make Carnage Park a moody horror film, it does more for establishing a mise-en-scene than DP Max Fisken's sun drenched frames which never enhance the inherent menace of the landscape. But peppered as it is with gruesome discoveries, it's merely another exercise ignorant of the fine-tuned seduction which must accompany such flourishes to maintain the visceral reaction it seeks. A reenactment of what the opening credits proclaims to be "one of the most bizarre episodes in the annals of American crime" should certainly feel a bit more sensational.
★★/☆☆☆☆☆