Light of My Life | Review
If You're a Boy or a Girl: Affleck Explores Gender in the Post-Apocalypse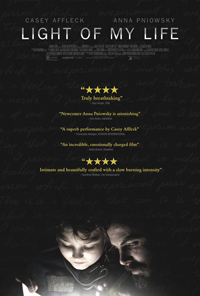 Nearly a decade after his stunt documentary I'm Not Here (2010), actor Casey Affleck returns to the director's chair with an art-house portrait of the post-apocalypse in Light of My Life. Coincidentally, just as his previous directorial effort resulted in some questionable scenarios which overshadowed the glory of his 2016 Best Actor Academy Award for Manchester by the Sea (a dilemma which, luckily for Affleck, arrived before the media frenzy of Harvey Weinstein's downfall and the birth of the Me Too Movement), his next effort is a dystopic psychological drama revolving specifically around gender roles in a human population decimated by a mysterious disease which has claimed the roles of all the world's women, seemingly. It's a curious subject for Affleck to tackle, and the script, which he penned himself, charts a similar trajectory of contemporary post-apocalyptic fiction depicting dark times ahead for the human race, even if each nightmare has specific parameters to explain the rationale for those left behind. Landing on the elegiac side of things, it's an earnest and sometimes interesting effort from Affleck, but despite the heavy lifting done by himself and newcomer Anna Pniowsky, the film is eventually too familiar, and its narrative too limited to justify its particularly obtuse explorations of gender.
A decade after a pandemic has wiped out womankind, a father (Affleck) and his daughter Rag (Anna Pniowsky), who inextricably survived nature's misogynistic holocaust, wander the countryside. Disguised as a boy, Rag's femininity is beginning to become apparent despite her clothing and short hair, leading the dynamic duo into ever more tenuous tests of survival.
Light of My Life brings to mind countless predecessors, which lends an unfortunate derivative quality to its methodical two-handedness. From Bird Box, It Comes at Night, The Road, Children of Men, ZPG and A Quiet Place, families fending themselves off from rampant scavengers and violent extraterrestrial interlopers whilst dealing with issues of procreation are a vibrant subgenre. Both Debra Granik's Leave No Trace and Margaret Atwood's The Handmaid's Tale are also worth mentioning in conversation, particularly as the latest visual iteration of the latter also features Elisabeth Moss, here as a phantom mother in flashback. On the plus side, a score from Daniel Hart and DP Adam Arkapaw (the favored cinematographer of David Michod and Justin Kurzel) assist in the film's competent technical credits which allows for a glossy packaging.
However, Light of My Life clearly feels written from the perspective of a privileged heterosexual male, conveniently scaled on a smaller canvas to avoid having to answer questions about just what kind of a disease would simultaneously wipe out all of women kind makes this another example of heteronormative hodgepodge—something more, even if equally mysterious (or ridiculous) could have easily been written into the film's fabric (for instance, wouldn't nature evolve the female human body to such an extent the Y chromosome could no longer be produced in fetuses, leading to a more likely but pronouncedly slow decline to inevitable distinction, sans the planet imploding?) Pniowsky shares a comfortable rapport with Affleck, whose character seems well-versed in every exchange save the obligatory puberty talk (where he compares menstruation to having a 'little bloody nose'), and his film presents an interesting extra-textual conversation starter, whereas his presence as the gatekeeper for the potential last human female here is at striking odds with questionable behavior which led to highly publicized public charges against women on the set of I'm Not Here.
Affleck begins his film with a story, a father telling his daughter a made-up tale about a fox (which the daughter insinuates is initially a metaphor about her), which segues into elements of Noah's Ark from the Bible. Their conversation turns to the unlikely probability of there being two of every living creature which could have been stuffed into one big boat. He responds he had never considered it before—and, thus, Light of My Life lends itself to some self-reflexivity, utilizing tropes which we have come to take for granted as the likelihood or inevitability for humans in a potential future mired in desolation and despair—and mistakenly believing these scenarios make any sort of sense.
★★½/☆☆☆☆☆