Ballad of a Rolling Stone: Zhao Basks in the Beatitude of America's Heartland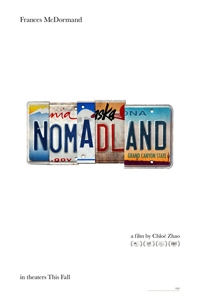 Director Chloé Zhao follows up her critically acclaimed 2018 sophomore feature The Rider with an equally effusive neo-realistic hybrid Nomadland, scoring Frances McDormand in the lead as a study in subtlety, marking the performer's first appearance since her second Academy Award for Three Billboards Outside Ebbing, Missouri (2017).
Adapted from the non-fiction book by Jessica Bruder, it's a stark exercise in peripherality focused on nomadic experiences in the sprawling American West. Much like her first two films, this is no-nonsense portraiture plays like a hybrid docudrama of lived in experiences seeking to capture an essence of humanity which hearkens back to the desires of America's beat generation of living life from the outside in, chasing experience rather than endless servitude in an American model of life which saps energies instead of invigorating them.
Terse in the narrative sense, it's a fractured road trip experience embracing the notion of living on the edges of society as a way to embrace personal fulfillment. Defined by a hardnosed yearning to chase life's virtues through solitude and experience instead of proscribed notions of meaning through consumerism, it's a melancholic journey of self-acceptance, resilience and prizes the clearheaded realities of solitude bolstered by an empathetic turn from McDormand, who revels in a cagey turn as a woman clinging to a memory of life eroded by the realities of death and time.

In early 2011, the economic collapse of a rural town in Nevada called Empire finds Fern (McDormand) forced from her home and into a nomadic existence, living out of her van and touring a series of seasonal jobs in the Midwest. She discovers a like-minded community of people on the road, a pattern of similar minded folk who take seasonal occupations at an Amazon warehouse in the mid-west, migrating along with some of them. She commiserates with a select few individuals, each sharing their own journeys and traumas they faced then and now. Eventually, she begins to open up about what kept her in Empire, and economic circumstances force a reunion with her estranged sister. A handsome drifter, David (David Strathairn) attempts a tentative courtship in South Dakota, but Fern remains reluctant to make herself available or vulnerable.
In several ways, Nomadland successfully breaches the essence of personal spiritual awakening the adaptation of Wild (2014) was desperate to achieve, another expose focused on a woman walking through perseverant isolation to reclaim herself. Zhao's approach is gentle, sometimes evasive, a series of interactions which find Fern softening in her response to the kindness of others.
McDormand's presence is a lesson in the power of listening, for the film's best moments are often when Fern is simply representative as witness to the experience of others, often those who are near death or have experienced significant trauma. A pattern emerges in the occupations of seasonal workers, such as those who flock to the Amazon warehouse, and the notion of seeing someone down the road, whether it be in this life or the next, lends a gravitas to these human experiences which transcend the superficial. At face value, these lives may appear arduous or tenuous, at best. But it all depends on what one is desiring to do, or how one is willing to live. It's all a means to an end, and if the end is simply being able to enjoy the experience of spanning a yearly trek of employers and carparks, wherein one reunites with old friends and acquaintances at designated times of year, then clearly, there's a sublime union of melancholic tendencies and comfortable familiarity in these migratory movements.
Much like The Rider, the wide, exterior landscapes speak to a world beyond our comprehension and that of its characters, evoking the hope of possibility beyond whatever a current situation otherwise suggests. Shot by Joshua James Richards (of The Rider and Francis Lee's God's Own Country, 2017), the film is another portrait of heartache and alienation in rural reclusiveness.
David Strathairn appears as a potential love interest for Fern, but his hangdog representative of reprieve walks a fine line between either a trap or redemption. A conversation in the third act finally formulates a portrait of her existence as a woman who's allowed herself to be defined by the memory of her dead husband, ostensibly ejected from wallowing in the past by the dissolution of a collapsing communal infrastructure.
The erasure of the town called Empire following the discontinuation of a zip code plays like a microcosmic metaphor, and Fern is left not so much at a crossroads but an epiphany about relinquishing the past before deciding on the long term dictates of a future.
Reviewed virtually on September 11th at the 2020 Toronto International Film Festival. Gala Presentations – 107 Mins
★★★½/☆☆☆☆☆