Judas and the Black Messiah | Review
Only God Forgives: King Resurrects Fred Hampton in Significant, Unequivocal Portrait of Betrayal and Assassination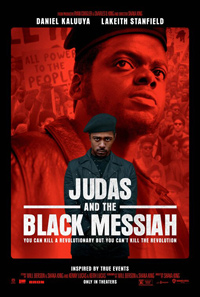 On December 4, 1969, Fred Hampton, chairman of the Illinois chapter of the Black Panther Party (BPP) was assassinated in a raid orchestrated by the Federal Bureau of Investigation (FBI) with the assistance of the Chicago Police Department and the Cook County State Attorney's Office. Howard Alk's 1971 documentary The Murder of Fred Hampton is a requisite time capsule as far as understanding the period, and until recently, a recuperation of the slain activist has been relegated to peripheral mentions (as in his portrayal by Kelvin Harrison Jr. in The Trial of the Chicago 7, 2020), or a phantom or footnote to infrequent mountings of more infamous figures from the BPP, such as Bobby Seale.
Significantly, the first extensive resuscitation of Hampton finally arrives in Judas and the Black Messiah, released through a major Hollywood production studio and directed by Shaka King, in what serves as his long-awaited sophomore narrative feature. Not since Mario Van Peebles' 1995 title Panther have we received something so brazenly authoritative about the Black Panthers, and a portrait which effectively conjures the real fear of Fred Hampton, murdered at the age of 21—a uniting factor for change and racial equality which threatened the cultural stranglehold of the white heteropatriarchy.
Chicago, 1968. William O'Neal (LaKeith Stanfield) is arrested while impersonating an F.B.I. agent for his own personal schemes. Facing a potential five-year sentence, he is recruited by Agent Roy Miller (Jesse Plemons) to infiltrate the Illinois chapter of the Black Panther Party in an ongoing investigation against Fred Hampton (Daniel Kaluuya), who is a subject of special interest to J. Edgar Hoover (Martin Sheen). Slowly O'Neal earns the trust of his peers, who eventually give him the nickname Wild Bill. Hampton himself is also balancing his advancement with the Rainbow Coalition and his own personal responsibilities, such as his blossoming relationship with Deborah Johnson (Dominique Fishback), resulting in her pregnancy. Following the killing of fellow Panther Jimmy Palmer (Ashton Sanders), tensions rise and Hoover pressures Miller into utilizing O'Neal 'more creatively,' which eventually results in a raid on Hampton's abode on December 4, 1969.
It's difficult not to peg or reduce Judas and the Black Messiah as merely a prologue to today's realities, with the threat to the establishment of the Rainbow Coalition similar to the uniting sentiments of anti-racism beneath the umbrella of the Black Lives Matter movement. Regardless of the troubling contemporaneous vibe of Hampton's story, who has now been dead for over fifty years, King has created a formidable homage to the memory of his subject. With story credit for Keith and Kenneth Lucas, King and Will Berson penned a script which rather breathlessly evokes its arguments and sentiments quite efficiently. The treacherousness and virulence of Hoover and the F.B.I. is thankfully kept to a minimum, with Martin Sheen's villainous take on J. Edgar Hoover as icky as we need it to be and Jesse Plemons chained into the role of a self-serving enabler. Their conversations amongst one another are neither exaggerated nor ambiguous and showcase how Hampton arrived at a perfect time for them to ascend to murder after seeing the continual influence of Huey Newton and Eldridge Cleaver ever after their respective imprisonments.
The twin performances of Stanfield and Kaluuya solidify Judas and the Black Messiah as something divine. United after starring opposite one another in 2017's Get Out (they're also re-joined by Lil Rel Howery in a brief but fascinating bit role), King builds their relationship to the biblical crescendo promised, and quite eloquently displays the vulnerability of O'Neal.
With morose determination, Stanfield's narration hits the nail on the head – his mentor was a racist F.B.I. agent and he himself was not willing to sacrifice his own skin for either Hampton or the movement he represented. "You can't cheat your way to equality," offers Roy Mitchell after equating the BPP to the KKK in their opposing 'quests.' It's one of many effective statements which speak volumes, and there's great care taken to present O'Neal as both villain and victim (the O'Neal interview which bookends the film drops us on a devastating note). But Kaluuya is something of a revelation here as Hampton, appearing physically transformed and delivering vehement energy.
Some notables in the supporting cast include Ashton Sanders and Dominique Fishback, respectively, but this is really a film about a false relationship which plays like the converse scenario of what is at the heart of Spike Lee's BlacKkKlansman (2018). An anxious, string-heavy score from Craig Harris and Mark Isham is a technical stand out, as is Steve McQueen's favored DP Sean Bobbitt, transforming modern day Cleveland into vibrant, late 1960s Chicago.
Reviewed on February 1st at the 2021 (virtual) Sundance Film Festival – Premieres Program. 126 Mins
★★★★/☆☆☆☆☆