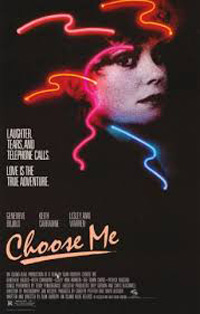 Of their three collaborations, the most intriguing Alan Rudolph film to feature Bujold is 1984's Choose Me, which more or less focuses on two female leads, with usual repertory star Keith Carradine taking the backseat between them. Rudolph's highly stylized and often unpredictable ensembles often felt like a mixture of Robert Altman (who produced some of his 1990s work, like the celebrated Afterglow) and a John Sayles or even Walter Hill (certainly Streets of Fire feels aligned with the same fantastical spirit of Rudolph's pronounced mise-en-scene).
Here, Bujold plays Dr. Love, a radio talk show host who doles out sex advice to her mostly female clientele with the muted enthusiasm of one who's tired of her job. Taking a shine to an impassioned phone call from an unlucky-in-love bar owner (Lesley Ann Warren), who runs a dive joint named Eve's (neither of the actors happen to be 'the first woman' seen on screen) and wants some advice about the older married lover, Zack (Patrick Bauchau) she is tired of waiting for seems to inspire Dr. Love to find her own.
Deciding to embark on an adventure, Dr. Love seeks the company of Eve at her job, but pretends to be Alice, an intellectual woman looking for a roommate. Both ladies meet a handsome new customer, Mickey (Keith Carradine, in Frederic March mode), a man with considerable secrets who came to look for the bar's previous owner, also named Eve. Meanwhile, another bar patron, the overly curious Pearl (Rae Dawn Chong), who wiles away her time at the bar writing poetry in a notebook, is also enamored with Mickey, and is eventually revealed as the wife of Zack (decked out in an apartment filled with classic movie posters, including some fitting All About Eve motifs, while a man-handled Lizabeth Scott in a Too Late for Tears print looms forbiddingly in the background of a beaten Rae Dawn Chong).
While all of these crossed love intersections makes Choose Me sound like a sexy comedy of errors (Teddy Pendergrass supplies the soulful vocals), it's really a unique vehicle for Bujold and Warren as two women on the opposite sides of a 'love' problem.
★★★★/☆☆☆☆☆