Reviews
Trouble in Mind (1985) | Review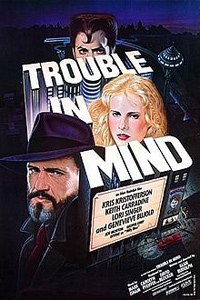 One of Alan Rudolph's most idiosyncratic films is 1985's Trouble in Mind, which features a buzzy ensemble of characters intersecting in the fictional Rainy City, a place where it's always sunny outside but no one seems too thrilled about it.
Kris Kristofferson stars as Hawk, an ex-cop recently released from prison for murdering a man in defense of his old friend/lover Wanda (Bujold), who owns a local coffee shop. As Hawk starts mooning around again, Coop (Keith Carradine) and Georgia (Lori Singer) decide to leave behind country life and pursue big dreams in the city in order to build a better future for their baby. Except Coop immediately falls in with the local drug trade (immediately donning rock-star glitter and a pompadour, plus a wardrobe making this characterization curiously similar to his brother David Keith's role as a transsexual in exploitation drama Sonny Boy, 1989) courtesy of Solo (Joe Morton). But when Coop and Solo run afoul of local kingpin Hilly Blue (Divine, in a rare characterization out of drag), Hawk is forced to intervene on behalf of Georgia, with whom he has grown attracted to.
Bujold, much like her eventual characterization in her last outing with Rudolph, is cast once again as a sort of lynchpin upon which the fictional universe revolves. Playing a centrifugal hub for the story, Bujold's Wanda arrives decked out with a terrible pixie cut and a few pretentiously poetic asides (her reason for opening the coffee shop is a helluva doozy).
With a surprisingly violent climax taking place at Hilly Blue's (which looks like a moderately updated version of Dr. Frank-N-Furter's Transylvanian castle), Marianne Faithfull's swoony, croony title track carries this bit of glorious weirdness into its own offbeat glory.
★★★½/☆☆☆☆☆