Dial M for Manners: Tafdrup Uses Cruel Intentions to Play Funny Games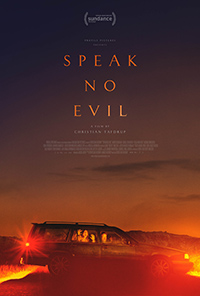 Oftentimes the simplest, most realistic scenarios breaking through the veneer of contentment and the facade of day-to-day existence yield the most terrifying results. Such is the mechanism driving the successful discomfort of Speak No Evil (Gæsterne), the third film from Danish actor/director Christian Tafdrup. Exploring our innate adherence to politeness and a blind, naive trust of a just world by shoving it violently towards the most logically unbalanced conclusions, this is a cautionary tale solely for the most banal of participants.
Tafdrups' protagonists are bland, docile, stand-ins for those basic well-heeled and moderately privileged couples seemingly always plagued by sociopaths. In this scenario, their adherence to emotional control diminishes their sense of self-preservation in this grotesque exercise, unspooling like Bunuel aping The Most Dangerous Game. However, even as its bland title indicates, this shock stock narrative pales in comparison to the arthouse provocateurs it mimics, such as Haneke or Lars Von Trier, whose torturous offerings are (usually) more powerful castigations than this B-grade treatment which seems nonsensical by the final turn of the screw.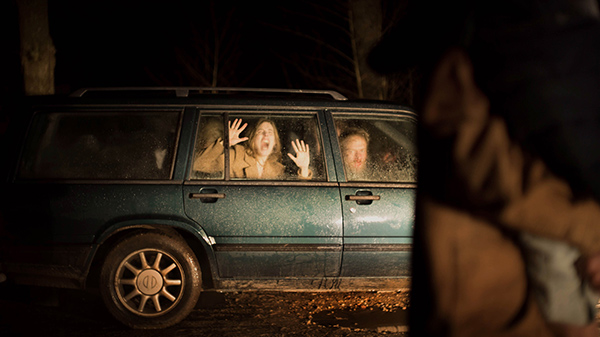 Bjorn (Morten Burian) and Louise (Sidsel Siem Koch) are a happily married Danish couple on holiday in Italy with their young daughter Agnes (Liva Forsberg). They interact with Dutch couple Patrick (Fedja van Huet) and Karin (Karina Smulders), staying at the same resort with their mute son Abel (Marius Damslev). Their interactions are amicable, and they exchange information. Several months pass, and the Danes find themselves invited to Holland for a weekend getaway at the isolated home of Patrick and Karin. Curious and perhaps a bit bored, Bjorn and Louise accept, although the lodging isn't exactly convenient seeing as Agnes has to sleep on the floor in Abel's room, a young boy who seems emotionally troubled and was apparently born with an underdeveloped tongue, impeding his communication. Various discomforts abound and eventually Louise finds herself alarmed enough to abscond without saying goodbye, but circumstances bring them sheepishly back to the isolated manor, where they valiantly try to make up for their awkward social faux pas. Eventually, their instincts about Patrick and Karin are confirmed, and their jovial weekend descends into terror and madness.
Tafdrup's film actually has a lot in common with the cinema of Ruben Ostlund in how it feels like an uncomfortable examination of social behaviors under pressure, taken past a breaking point into the ludicrous. But Speak No Evil is hardly a black comedy, and there's nary a moment of even the lightest humor. Bjorn and Louise are uncharacteristically dull, so much so the gregarious Patrick and gracious Karin only register as interesting because they seem moderately affable. Without anyone exuding any real charm or charisma, it seems like a desperate attempt for two sets of diminished couples trying to escape themselves and one wishes Tafdrup had built upon this mutual need for 'friendship' making Bjorn and Louise vulnerable targets and the other couple the evil mirror image. Instead, garden variety red flags pop up intermittently and the inherent need to avoid any kind of confrontation regarding slight discomfort eventually sails into hyperdrive once Tafdrup reveals just how nefarious Patrick and Karin are – and only after Bjorn and Louise had ample opportunity to escape.

As the film descends into an effectively grisly, if ultimately empty-headed punishment for their lack of self-preservation, what's lacking is any attempt to explain the motives of the thrill crazy/kill crazy couple beyond their apparent boredom for need to play 'funny games.' But Haneke challenged our inherent catharsis in bloodlust and Von Trier, well, managed to make us empathize with his characters. Speak No Evil is a hard, stinging slap from a source you might never want to see again, while Tafdrup's predecessors have the ability to generate a morbid but complex sadomasochistic dalliance with their audiences. Though it takes a long time for the shoe to drop, the payoff is considerable, but the film's eventual dark nihilism would have packed a greater wallop if it's catalyst was more than an exercise in exploring the superficial yoke of human social codes.
Reviewed on January 24th (virtually) at the 2022 Sundance Film Festival – Midnight section. 98 mins.
★★★/☆☆☆☆☆