Winter Boy (Le Lycéen) | Review
Hazy Shade of Winter: Honore Deals with a Death in the Family in Sincere Coming-of-Age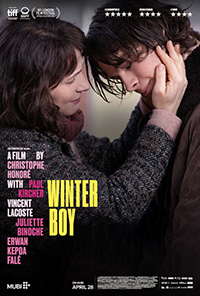 Christophe Honoré has built an intricate filmography on the backs of characters consumed with loss and exploring their identities for the past two decades, only occasionally breaking from familiar themes to explore the inherent decadence and taboo of classic literature (such as his adaptations of Georges Bataille or Ovid). His latest, Le Lycéen (Winter Boy), unites coming-of-age tropes paralleled with loss, guilt, and sexuality through a semi-autobiographical lens in his particular talents for loquacious wisdom punctuated by observational sensibilities defining complex human relationships.
Honoré hands relative newcomer Paul Kircher the reins for this quietly poignant narrative about not taking those we love for granted and the inherent power in re-defining ourselves after tragedy shatters the fragile reality of preconceived notions.
Lucas (Kircher) is a happy-go-lucky sort, enjoying his last year at boarding school with impending plans to join his older brother Quentin (Vincent Lacoste) in Paris after graduation. His boyfriend Oscar (Adrien Casse), with whom he shares a sexually charged relationship, seems aware their high school romance is destined for an expiration date, but the inevitable arrives sooner than either expected when Lucas' father (Honore) dies suddenly in a car accident. As family members converge upon the household, and his bereft mother Isabelle (Juliette Binoche) leans heavily on their presence, the future which once seemed so certain has suddenly evaporated. After the funeral, Quentin suggests taking Lucas back to Paris before his next semester. Lucas becomes infatuated with Quentin's gay roommate, Lillo (Erwan Kepoa Fale), who secretly moonlights as a sex worker when no one's at home. Using this knowledge as a way to prove himself as worthy of Lillo's attention backfires, and Lucas makes a drastic decision when sent back to his mother's.
Honoré casts himself in a brief role as Lucas' somewhat unhappy father, and the specter of suicide looms large over the senseless accident which claimed him. It's a rarity to see Honoré on film, specifically in his own narrative, where he eerily places himself in the role of the dead father.
Considering Honoré's last film, Guermantes, death specifically with Proust, there's certainly a In Search of Lost Time vibe in Lucas' framed narration, looking back upon the tragedy which caused a delayed emotional unraveling. The entire narrative is framed in retrospect by Lucas, working painstakingly through the events which bring him to the precipice of anguish. Honoré grants Lucas one of the most explicitly sexual characterizations in his filmography, utilizing the teen romance between Lucas and Oscar to explore his rather oblique understanding of the difference between lust and intimacy. Theirs is a curiously transactional relationship relayed in a mutual understanding of its inherent propinquity. Like the teen lovers in Xavier Dolan's I Killed My Mother (2009), there's an awareness of its limitations. The eventual romantic inclinations he feels for Lillo, with some of the film's best sequences shared by Erwan Kepoa Fale, are the swoon worthy, Parisian equals to the lovers in Honore's tragedy-defined musical Love Songs (2007).
Lacoste, reuniting with Honoré after playing one of the leads in his 2018 title Sorry Angel, is on hand as the ornery but loving older sibling, while the routinely sublime Juliette Binoche is expectedly fitting as the mourning mama trying to get her son back on track. Honoré reunites with DP Remy Chevrin to paint a wintry Parisienne exploration of a sexually charged romance. Like many of Honoré's intimate dramas, Winter Boy is intensely focused on a protagonist struggling to overcome an emotional torpor imposed by tragedy, recalling the fraternal drama of Dans Paris (2006), or the series of vignettes exploring the life of a woman in his debut Seventeen Times Cecile Cassard (2002). It's an empathetic portrait of a youth's epiphany through heartache, learning anger over mortality cannot sustain one's pursuits for meaning or pleasure.
Reviewed on September 13th at the 2022 Toronto International Film Festival – Contemporary World Cinema. 122 Mins
★★★/☆☆☆☆☆