On a Racist Day You Can See Forever: Mungiu Confronts Nationalism in Fractious Drama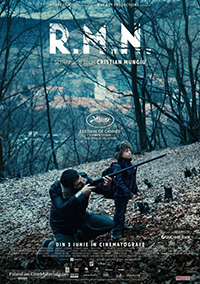 On the surface, R.M.N., the latest feature from Romanian New Wave alum Cristian Mungiu, would seem to be a straightforward microcosm reflecting a rising wave of nationalism through the prism of a small Transylvanian town on the Romanian-Hungarian border. However, Mungiu's most circuitous narrative to date proves to be much more complex than it would initially seem, packed with a dense tangle of details and metaphors which can be construed as culturally specific but have historical and universal similarities bolstering a tense, chilly mood.
Although the acronym of the title might be read as initials for Romania, they are in fact a direct reference to a brain scan undergone by one of the characters (in the west, it's NMR, Nuclear Magnetic Resonance, a test generating information utilizing radiation emission frequency). It's one of several key details building a metaphorical resonance into a narrative which ends on a fascinating note suggesting a return to nature (or a response from nature) may be the only logical solution.
Rudi, a young child in a Transylvanian village, is scared by something seen offscreen in the woods, something so terrible he refuses to speak. Shortly after, his father Matthias (Marin Grigore), is fired from a slaughterhouse in Germany when he violently responds to a racial slur regarding his mixed Romani heritage. He returns to his hometown, where his ex Ana (Macrina Barladeanu) tolerates his attempts at control, insisting Rudi resume sleeping alone and walking to school through the woods despite the trauma of whatever he experienced there. Also, Matthias' father, Papa Otto (Andrei Finti), doesn't seem to be doing too well. A brain scan reveals a growing mass of which removal might be fatal. Matthias begins a sexual affair with Csilla (Judith Slate), who works in administration at the local bakery. When a trio of foreigners from Sri Lanka are given contracts to work at the bakery and move into town, there's immediate civil unrest at their presence. Beginning with growing vitriol at the church, furthered by a hapless reverend, this resentment soon spins into violence. Add to this a French researcher with a NGO who is investigating the natural biodiversity of the town to monitor the bear population, which has also ruffled the villagers' feathers.
Perhaps R.M.N., overall is meant to be read as a test revealing a diagnosis about an inoperable disease, the only stop to its growth being death. Mungiu's opening, where the offscreen event triggering Rudi happens out of our sight, suggests a premonition experienced by the child of Papa Otto's demise, like the innocent sensing the impending doom facing the village. Of course, Mungiu doesn't seem to be making statements easily reduced to elemental interpretations, but the scope of the narrative is impressively heady.
A bird's eye view of the film shows how ignorance and fear of the unknown pervasively erodes our abilities to think (as in the community) or even speak (as in the child), a lack of information paralyzing us, stopping us in our tracks. That the factory in question is the bread factory feeding the community is also of interest—-they'll cut off their noses to spite their faces rather than integrate their community. Likewise the toxic traditions instilled between generations keep these ignorant views alive, such as Matthias insistence on forcing his child to be a man and simply repress his fears. Many conversations about the film will revolve around its use of bears, and the townsfolk's response to the foreigners involves a rise in archaic references to a tribal custom involving dressing up as bears (not unlike the berserkers of the Nordic region) to combat invading forces—-how this footnote factors into the final moments is also tantalizing.
Like the uselessness of governmental institutions and the dangerousness of religion which predicated 4 Weeks, 3 Months, 2 Days (2007) and Beyond the Hills (2012), respectively, ruination seems to be in the cards for this community about to implode along sharply drawn lines of the past. The constant back and forth on the mixing of Romanians, Hungarians and a smattering of Germans in the community (the latter represented by Maria Dragus, who was featured in his last film, 2016's Graduation) suggests an uneasy assimilation already existed between the representatives of these cultures, waiting to shift into the right communal soft spot to spark a land mine. Nowhere is this more apparent than in one of the film's most impressive moments in a lengthy unbroken take at the town cultural center, when the community argues over the fate of the Sri Lankans (the beautiful dreariness of DP Tudor Vladimir Panuru's camerawork suddenly feels like a bright hot light under a magnifying glass).
There's less of a clear cut character focal point than in Mungiu's previous films, but the staunchly resolute Judith Slate (who made her debut in Puiu's 2016 Sieranevada and also starred in his 2020 title Malmkrog) stands out as we scrabble to find a beacon of hope in a staunchly racist community which recalls a host of films depicting anywhere USA in the 1950s until, well, today, where white communities viciously exclude racial others from their neighborhoods. Where R.M.N. gets real bewildering is in a finale ending on a note so bizarre, ridiculous, and gloriously unexpected it jolts us into analyzing the film's intentions from a more advanced perspective.
Reviewed on May 21st at the 2022 Cannes Film Festival – Main Competition. 127 Mins
★★★★/☆☆☆☆☆