The Killer Inside Me: Landon Continues Recycled Tropes for Latest Buffet of Thrills and Kills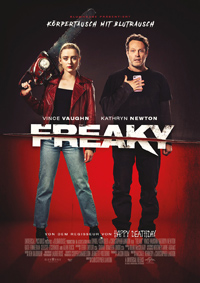 Director Christopher Landon, now a revered alum at Blumhouse Productions for his Happy Death Day (2017) and Happy Death Day 2 U (2019) titles (he also cut his teeth on the tail end of the production company's most profitable franchise in 2014's Paranormal Activity: The Marked Ones) segues from reconstituting Groundhog Day (1993) to a horror film version of Freaky Friday's body switching antics for the succinctly titled Freaky.
Although its title suggests a grab bag of shocking, grotesque titillations, Landon has merely retrofitted this familiar formula for a scenario which is never as novel as it sounds—a high school pariah switching bodies with the serial killer ravaging teenagers in her home town. A game cast, including a diverse group of characterizations, assist in allowing Landon to at least invite the specter of progression into the room, but it's ultimately more of a silly exercise than the melting pot of subtexts which could ostensibly be utilized in a body switching story.
Teenager Millie Kessler (Kathryn Newton) is having a difficult time transitioning to a semblance of normalcy nearly a year after her father's death. True, she has best friends Nyla (Celeste O'Connor) and Joshua (Misha Osherovich), who temper the nastiness of treatment by several of her peers, but homelife has been difficult. Coddling her grief stricken mother (Katie Finneran), who has taken to drowning her sorrows in white wine, and defying her older sister (Dana Drori), a policewoman who lives with them, Millie hasn't paid much attention to the news stories of teenagers being brutally murdered by a man called the Blissfield Butcher (Vince Vaughn). But alone at night on the school football field awaiting a ride, the serial killer accosts her with a dagger he acquired from the mysterious collection owned by the parents of his latest victims. In stabbing Millie, the magical dagger transports his consciousness into hers and vice versa. Through the help of a fellow teacher, Millie and her friends learn they have 24 hours to reverse the switch before it becomes permanent.

Obviously, Freaky Friday (both the 1976 original and the 2003 remake) provide the ultimate framework for what's going on here, copied numerous times through many variations (such as 2011's male version, The Change Up, for instance). The inclusion of Black and gay besties (an amusing duo in the form of Celeste O'Connor and Misha Osherovich) are entertaining and on hand for a heavy dose of self-reflexivity (Nyla is written similarly to the outspoken Black woman shunted into a supporting role in the 2019 remake of Black Christmas), though neither ever take shape as actual characterizations rather than mouthpieces of representation. In fact, Landon gets more mileage here through the character of Booker (Uriah Shelton), the heterosexual love object of Millie, who steals a kiss with Vince Vaughn.
Passing exploration of genitalia is also glossed over conveniently—despite the R rating for hardcode, violent kills, we're still all flustered over vaginas and penises. By default, items like Blake Edwards' extremely underrated Switch (1991), starring a phenomenal Ellen Barkin, and even 2002's Rob Schneider comedy The Hot Chick (which features a winning Anna Faris and Rachel McAdams) both exude a formidable queerness which, despite the outspoken gay character, feels almost entirely absent from Freaky—as if, by merely presenting a gay character accepted as being on par with others the narrative breezily excuses itself from having to actually engage with him beyond the superficiality of acknowledgement.
A second climax ends up feeling a bit too similar to something like the intention of David Gordon Green's 2018 reboot of Halloween, and there are a few too many nonsensical moments to really cherish what Landon is doing (the treatment of Millie's mother, a grief stricken chardonnay drinker who ridiculously hits on her daughter in Vaughn's body through dressing room doors while she's on the clock at the second hand shop she toils at, is one such instance). But Newton is winning as both a willowy teenager and a vicious killing machine (though positing her as an outcast is about as unbelievable as the same distinction planted on the protagonist of The Craft: Legacy sequel), and Vaughn gives a game performance as a giggly teenage girl's winning charm and gangly physicality (though he gets less chance to shine than either Schneider in The Hot Chick or Jack Black in the 2017 Jumanji reboot).
The teen villains are so monstrous, from a toxic female cohort dispatched in a ridiculous cryotank (think the cold version of what Michael Myers does with a hot tub in Halloween II, 1981) to a group of gang rapey boys and even Alan Ruck as an extremely rude shop teacher, there's never a moment to pause at the violent audacity of whatever or whomever the Blissfield Butcher is or what his motivations for incessant slaughter might be.
Either way, it's what makes Freaky feel like merely another rehash of a previously utilized idea which doesn't have the sense to use its nostalgia and familiarity to actually say or show something meaningful about the world we live, violence against women, disparaging attitudes towards Black women and the LGBTQIA community, and so on and so forth. If it had, it could have earned its title.
★★★/☆☆☆☆☆