The Fall of the House of Cushing: Del Toro's Haunted House Thriller Strangled by Frills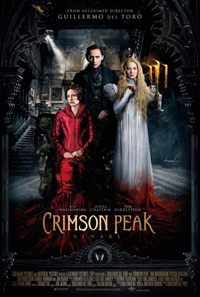 There's much to admire within the crumbling facades of Guillermo Del Toro's latest tantalizing film, Crimson Peak. But unlike its haunted familial mansion sinking slowly into the mire of wet red earth, the nonsensical and disappointingly basic narrative is consistent only in its utter transparency. Borrowing mercilessly from yellowed clichés of romantically inclined gothic literature, screenwriters Del Toro and Matthew Robins (whose last collaboration was the 1997 mutant insect thriller Mimic) plunder Edgar Allan Poe templates infused with the emotional melodrama oozing eternally from the pages of the Bronte sisters (while diegetic references to Jane Austen and Mary Shelley aren't quite as effective in a film brimming with pointed symbolism). An overextended first half teases delectable weirdness to come, but beyond its brooding cinematography and expertly crafted ghostly visuals, Del Toro delivers a predictable campfire tale too elementary to champion, despite its ravishing affectations.
Young Edith Cushing (Mia Wasikowska) is sole heir to her father's (Jim Beaver) mining empire in turn of the century Buffalo, New York. Her mother was taken by a cholera when Edith was young, and she informs us of an episode where her mother's skeletal ghost visited her, warning Edith of something called Crimson Peak. Fourteen years pass and Edith eschews customary social customs to focus on writing a novel as she wishes to be the next Mary Shelley. But when Thomas Sharpe (Edward Sharpe), a handsome stranger blows into town looking to sell some fancy new mining invention to her father, Edith becomes smitten. Only, it's all too clear to Edith's father (as well as the local eye doctor played by Charlie Hunnam, a man who clearly desires her) that something isn't quite right about Thomas and his rigid, spinsterish piano playing sister Lucile (Jessica Chastain). But circumstances eventually permit Edith to accept Thomas' proposal of marriage, and he whisks her off to his dilapidated mansion across the ocean, where she'll soon discover the meaning of her mother's ghostly prophecy.
Considering her literary filmography, including starring in updates of Jane Eyre and Madame Bovary, Mia Wasikowska seems inspired casting as the blonde maned Edith Cushing (whose name recalls Edith Wharton and Hammer Studio star Peter Cushing, which has to be a reference Del Toro and Robins had in mind). Wasikowska is quite effective, even as her damsel in distress routine ends up irritatingly similar to some Joan Fontaine approximation (an actress who also famously played Ms. Eyre). The physical abuse Edith endures only assists a rather asinine third act, but no matter. To the rescue comes a chilly performance from a brunette plaited Jessica Chastain, whose venomous, porcelain jawed evil wafts redolently from her aggressive gaze. Though her performance is a titch overdone, her presence often helps us overlook her questionable casting.
Unfortunately, there's never any doubt as to the ill intentions of these suspicious siblings, and so the mystery of Crimson Peak relies solely on the power of over utilized symbols. As Edith states of the ghost in her own manuscript, "It's only a metaphor," a statement we can apply to Del Toro's own title. A juxtaposition of butterflies vs. moths (Prometheus, it seems, which aren't really known for 'feeding off butterflies,' but no matter), American vs. British, hard labor vs. inheritance are churned together as forcefully as mealy cud, further enhanced by Danish DoP Dan Lausten (who also worked on Mimic and often collaborates with Ole Bornedal when he's not making glossy Hollywood productions).
The Cushing estate basks in an amber glow, of course at immediate odds with the dank, sinking infrastructure of the Sharpe's palatial estate which seems to actually be the House of Falling Leaves. Even Wasikowska's goldilocks hair and glaring yellow dress mark her as the swallowtail summer insect destined to fall into the devouring maw of Lucile and Thomas. Character actor Jim Beaver (if you close your eyes you'll picture Gene Hackman, circa Nicolas Roeg's Eureka, 1983) impresses as Wasikowska's father, a self-made somebody reflecting the American Dream mirage.
Hiddleston ends up being the least interesting angle in this triptych of main players, his character's growing attraction for Edith unbelievably presented (though it's better than can be said of Del Toro's Pacific Rim star Charlie Hunnam, who gets stuck in a stale suit of perpetual concern). But many of Crimson Peak's narrative strands seem rather ungainly, including its central metaphor of ghostly victims screaming out from the bowels of the sunken earth to wreak cosmic karma. Sure, Del Toro's usual flair for grotesque visuals is apparent, though these spiritual permutations sometimes feel too over-the-top for a narrative that justifies a YA range of intellect.
★★½/☆☆☆☆☆