Reviews
Da Sweet Blood of Jesus | Review
S'Blood: Lee's Facsimile of Bill Gunn an Odd Satisfaction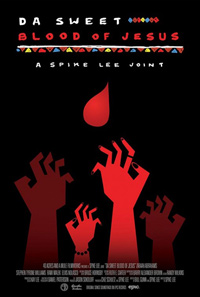 Surprisingly, after the failure of his 2013 remake of Park Chan-wook's Oldboy, provocateur Spike Lee's latest, the Kickstarter funded Da Sweet Blood of Jesus, is also a remake, a modernization of Bill Gunn's 1973 classic Ganja & Hess, a film tenuously positioned within the spectrum of Blaxploitation. Lee initially explained that the film was about blood addiction and not vampires, with early conversations indicating that this had nothing to do with the likes of Blacula. But those familiar with Gunn's brilliant and strange (if somewhat compromised) original film will see his stamp all over it, directed with uneasy disconnect from Lee. It's an odd, sometimes off-putting film, but it strikes a distinctive, addictive chord, generating a particular scent that will draw you down its path. Though Lee expressly wishes the focus of the film to be about the nature of addiction and not vampirism, this is an intelligent conversation piece that will certainly not be for all tastes. And yet even its detractors can't deny Lee's compelling flavor.
Noted anthropologist Dr. Hess Green (Stephen Tyrone Williams) has been investigating the Ashanti Empire. His research assistant, Dr. Hightower (Elvis Nolasco) stabs him with a dagger (a relic they've recently acquired), which results in Hightower committing suicide while Hess morphs into an undead creature addicted to blood. While adjusting to this transformation on his palatial compound in Martha's Vineyard, Hess employs Seneschal Higginbottom (Rami Malek) as servant and chauffeur. Meanwhile, Hightower's caustic ex-wife Ganja (Zaraah Abrahams) arrives from Britain in search of him, but she quickly falls under Hess' spell, and soon he has transformed her after she agrees to marry him.
The notion of vampirism as addiction is nothing new, and Lee's rendition recalls the likes of Abel Ferrara's 1993 The Addiction, and even more so, Claire Denis' 2001 Trouble Every Day, wherein another heterosexual couple (Beatrice Dalle, Vincent Gallo) seek a cure for a ravenous blood disease, locked in their own private hell. Gunn's original film was all symbols and metaphors concerning religion and the decay of an urban identification choked out as easily by the evils of black ancestors as the modern aggression of dominant white oppressors. And then there's a definite ferocious defiance to Gunn's alienating version, evidenced in its unforgettable final moments.
Lee's version is more introspective, wearing its joke in the title, a nod to the traditional, albeit perceived ingestion of Christ's magic blood. But whereas Duane Jones and Marlene Clark were passionate figures under Gunn's direction, Stephen Tyrone Williams and Zaraah Abrahams seem intellectually paralyzed. As they lap up the blood of a victim, there's something mechanical about their horror, as if they're engaging in a self-imposed experiment. Things seem more lively when Abraham's bitchier version of Ganja spars with Rami Malek's Renfield-like chauffeur. A strange lesbian sex scene preceding a murder, between Ganja and one of Dr. Green's exes (Nate Bova), feels like a desperate bid for titillation, and is one of the few instances where Bruce Hornsby's inspired and often disconnected score further enhances the silliness of this strange confection that generally avoids taking us out of its element.
★★★/☆☆☆☆☆