Playing Off-key: Satrapi's English Language Debut a Grating Misfire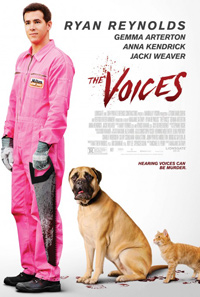 Iranian born director Marjane Satrapi, best known for her 2007 debut, Persepolis, and a 2011 follow-up, Chicken With Plums, breaks into the English language market with The Voices, a rather oddly concocted mixture of slapstick, black comedy, and grisly violence as it attempts to explore the point of view of a schizophrenic serial killer. Oh, and he's played by Ryan Reynolds. While there are certainly enough elements to attract intriguing minds, especially for those with a humorous morbid streak, Michael Perry's screenplay is only superficial at best, launching a series of grotesqueries at us with a heap of buttery antics on the side. While profane violence and guilty guffaws are certainly possible, though generally hard won, whether they be from more high (Coen Bros.) or low (John Waters) brow vantage points, here we have a rather sluggish and tonally awkward blend that is neither successful as a comedy or a darker genre effort.
In some back water Middle American hamlet, Jerry (Reynolds) is a troubled young man that has recently been released from an institution and into society. With the help of his psychiatrist (Jackie Weaver), he lands a job in the shipping department of a toilet company that dresses its workers in outfits that match a bright pink logo. Quickly we find that Jerry is still rather disturbed, conversing freely with his pets, a dog Bosco (voiced by Michael S. Ruscheinsky) and cat Mr. Whiskers (voiced by Denis Lyons), the side effect of not taking his medication. The pets take on an angel and devil role play for Jerry, with the feline taking demonic duty as an independent mammal prone to hunting and killing for pleasure. Complications arise when Jerry tries to date the foxy flirt in payroll, Fiona (Gemma Arterton), and circumstances find him accidentally killing her, dismembering her corpse, and then keeping her head in his fridge so he converse with her. Things get real sticky when Fiona's work friend, Lisa (Anna Kendrick) decides to make a pass at Jerry, who she has been pining for.
Again, to discuss The Voices sounds like a genre hound's dream, especially considering it being helmed by the visually expressive Satrapi. And, as with the live action Chicken With Plums, the look of the film is vibrant, a glossy colored wonder when we're seeing through Jerry's un-medicated eyes, and a dark, drab, cruel environment when he's doing what he's supposed to be doing. While Reynold's casting is a rather dubious choice, he's sometimes an engaging presence in indie features, particularly titles like The Nines and Buried. Here he's about as wrongheaded as the rest of the film, doing his best to play a candy hearted killer that's all Norman Bates without the sexual dysfunction (though a rather silly mommy complex is revealed in some off-key flashbacks). But rather than seem schizophrenic, Reynolds appears to play the role as mildly autistic.
The sparring Bosco and Mr. Whiskers are a bit predictable, and a trio of young ladies are mere fleeting props in a merry-go-round of predictable rhythms. It's too bad because The Voices seems like a missed opportunity, especially as its end credits are graced with a poppy dance number performed by the cast and someone dressed as Jesus Christ. Audiences desperate for a flash of something different are sure to mistake The Voices as an inventive hybrid, but its tone is too poorly construed. We never give one good lick about doofy Jerry and his rather vaguely explained neurosis, or the bevy of pretty broads content to work in a stagnant toilet factory while scuttling off to karaoke every Friday for cheap kicks.
Reviewed on January 21 at the 2014 Sundance Film Festival – Premieres Section.