The Return of Martin Guerre (1982) | Review
No Man of Her Own: Vigne's Classic Medieval Identity Drama Resurrected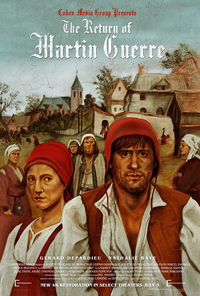 In the early 1980s, French director Daniel Vigne seemed poised to be one of his generation's noted forerunners with his celebrated sophomore film The Return of Martin Guerre (1982), a medieval period identity drama based on the true account of a French peasant who claimed to be a prodigal community member who had disappeared from his village under mysterious circumstances years prior. Comparable to favored film noir tropes, this compelling case study is gently relayed as a period melodrama and courtroom thriller, featuring standout performances from leads Gerard Depardieu and Nathalie Baye, not to mention a stellar supporting cast, many of whom would go on to be fixtures of French cinema. Vigne, co-writing with lauded screenwriter Jean-Claude Carriere, would nab Cesar and Academy Award nominations for their work here) seemed destined for an illustrious career (nearly a decade later, Jon Amiel would mount an English-language Civil-War era remake starring Jodie Foster and Richard Gere in Sommersby, 1993). Despite this acclaim, Vigne's film would fall into obscurity, now finally resurrected and restored courtesy of The Cohen Media Group, a welcome rediscovery of a lost early 80s gem.
In the village of Artigat, located in southwest France, Martin Guerre suddenly disappears one day in 1549. It comes as no surprise why, when a court magistrate Jean de Coras (Roger Planchon) questions Guerre's long-suffering wife Bertrande de Rols (Nathalie Baye) in an interrogation which is used as a framing device for flashbacks. Martin was not a respected member of the community, all who were aware of his inability to consummate his marriage to Bertrande until he was subjected to an exorcism and at long last enabled to impregnate his wife. Shortly after the birth of their son, he's accused of stealing several bags of grain from his father, after which he disappears. Eight years later, Martin (now Gerard Depardieu) suddenly reappears, sharing tales about his time of service in the war, apparently ready to resume his role as husband and farmer in Artigat. Some are initially suspicious, as Martin is much swarthier than the sickly man who had left nearly a decade ago. But this Martin is in awe of his wife's beauty, who recognizes him as her husband, along with several other community members, including his uncle Pierre (Maurice Barrier). After some time passes, Martin demands his uncle present him with the profits he made off his land during his absence, which instigates an immediate falling out between the two men, with the elder reporting this changeling as an imposter. When the authorities get involved, Martin is subjected to two trials.
What exactly happened to Vigne, whose cohorts would all become celebrated luminaries? It perhaps didn't help his period drama arrived at the beginning of a newly mounted excessive style coined the Cinema du Look, wherein colleagues like Leos Carax, Jean-Jacques Beineix and Luc Besson built careers with offering of lavish productions which channeled the materialistic and often hysterical underpinnings of the Age of Excess. At the same time, Vigne's starry follow-up, 1985's One Woman or Two, which reunited him with Gerard Depardieu and headlined Sigourney Weaver and Dr. Ruth Westheimer in an anthropological themed screwball comedy, was met with critical repulsion. Roger Ebert, for instance, was incredibly dismissive, musing, "Is there any redeeming facet to this movie?" In retrospect, it's a rather goofy but sometimes charming update on Bringing Up Baby (1938), and is arguably more in the spirit of the Hawks classic than, say, Bogdanovich's celebrated 1972 What's Up, Doc?). Turning mostly to television for the next several decades, Vigne was never allowed to follow-up on the same critical acclaim as his Martin Guerre, unassisted by the underwhelming response to Sommersby.
And yet, there's something quite mystical and utterly captivating about his presentation of The Return of Martin Guerre, particularly as it heads into its courtroom dilemmas, two trials documented in great detail by Jean de Coras. Part of this is due to a moody score from Michel Portal, which enhances the film's stylized emotional center. Vigne's style feels like a precursor to the provincial interest of early Bruno Dumont (The Life of Jesus, 1997 or Outside Satan, 2011, for instance) as well as his continued reclamations of Joan of Arc. Likewise, it's a film in the spirit of Pialat, whose Under the Sun of Satan (1987) was headlined by a comparably taciturn Gerard Depardieu, whose performance here was something of a turning point, coming off his oft-buffoonish portrayals in popular, outré items from Bertrand Blier.
Depardieu, who is by default often inscrutable (early sequences featuring the young Martin Guerre are voiced over by the actor to further confuse), is outshined by a superb performance from Nathalie Baye, whose anguish at having to relinquish the relationship she develops with her imposter husband is palpable (Baye didn't receive any Cesar love despite her work here, though Dominque Pinon, in a minor role, received a nod as Most Promising Newcomer). Maurice Barrier is a standout as greedy Uncle Pierre Guerre as is Roger Planchon as the punitive Coras. Besides Pinon, Tchecky Karyo is also a recognizable face featured amongst the supporting players.
In a narrative sense, The Return of Martin Guerre evokes classic noir patterns, particularly those hinging on identity tactics, such as the Barbara Stanwyck led No Man of Her Own (1950), or the more troubling Robert Wise film The House on Telegraph Hill (1951), in which Valentina Cortese stars as a concentration camp survivor who assumes the identity of a dead American friend—similarly, property and inheritance are the turning points for Depardieu's Arnaud of Tihl. But heartbreak and despair are all that's left in the final closing credits of Vigne's film, which is a sobering account not only Medieval provincial life but the extremely limited role of women's agency.
★★★½/☆☆☆☆☆