Grim Girl: Pacquet-Brenner's Adaptation Brandishes Relentlessly Contrived Twists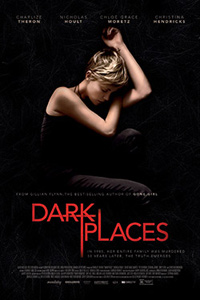 "I have a meanness in me," warns the omniscient narrator of Dark Places, as voiced by a steely Charlize Theron portraying an adult in perpetual arrested development thanks to devastating tragedy from her youth she's been milking ever since as a means of livelihood and escape. Unfortunately, the film is unable to correctly capture the complexities of such a characterization and it's exactly these types of sterling nuggets from Gillian Flynn's source novel which fall with graceless thuds throughout Gilles Pacquet-Brenner's adaptation of Dark Places.
The sort of thriller which could be euphemistically referred to as 'labyrinthine,' this cinematic re-tooling bears certain similarities to Pacquet-Brenner's last high profile film, the adaptation of Tatiana de Rosnay's celebrated novel Sarah's Key (2010), a mystery tinged tragedy drained of its potency for a celluloid brassiere specializing in the highbrow vein of war time exploitation. The notable name here is Flynn, who adapted her own novel Gone Girl last year for David Fincher's pulpy, stylized treatment, but it's safe to say there's little else tying these two cinematic products together beyond their origins.
In 1985 Kinnakee, Kansas, young Libby Day (Sterling Jerins) is manipulated into testifying her older brother Ben (Tye Sheridan) killed her other siblings and mother (Christina Hendricks) in cold blood….even though she never physically saw this happen. Thirty years later, and still living off the fumes of celebrity (and a major book deal) the incident secured her, Libby (Theron) is now faced with finding another means of income. Luckily, a 'fan' named Lyle (Nicholas Hoult) reaches out to invite her into an exclusive club of crime aficionados, people getting together to correctly solve crimes handled incorrectly. Convincing Libby her brother (now Corey Stoll), who has sat in prison for twenty eight years without ever filing for appeal, is actually innocent leads the withdrawn woman to examine hard truths about the past she's been trying to stay ignorant of.
Theron is quite adept at these earnest, downtrodden characterizations, though she's an iceberg bustled through catastrophic waves of numbingly silly happenings. Once again, it's difficult to discredit her misplaced sincerity, not unlike a similar desperately unhappy role in Guillermo Arriaga's The Burning Plain (2007), another film unable to rightly support the emotional magnitude necessary to make such dire circumstances effective. Her no-nonsense, self-involved agenda seems to suffer the achingly silly prodding of the obnoxiously named 'kill club' merely as a means to land her next paycheck, flinging cuss words around as a means to 'spice' up the ungainly, overly involved scenarios segmented by a handful of prison-set conversations with Corey Stoll.
When we're not wading through flashbacks (where the casting of someone like Chloe Grace Moretz draws a bit too much attention to a character demanding a bit more subtlety) it's Theron approaching figures from the murky past, which we're supposed to believe haunts her due to several grainy black and white nightmare sequences, though her lack of motivation doesn't always make her desire to solve the mystery of her family's murder all that convincing. Nicolas Hoult's character seems more of an enigma, but we never really understand the morbid motivations behind his obsessions, and a careless explanation about an arson incident from his youth isn't enough to do him justice. Instead, the lack of his character's development always makes his interactions with Theron seem incredibly clunky (unfortunate, considering they also co-star in Mad Max: Fury Road).
Flynn hits on several topical issues, examining the media obsession with Satanism across the nation which birthed the embarrassing miscarriage of justice known as the Robin Hood Hills murder case, now the subject of several high profile documentaries and a narrative film from Atom Egoyan. But, it unravels with convenient precision, a busy-body mystery too contrived to wow and without any kind of intensity to develop any real emotional investment. By the time the self-satisfied Libby Day's narration gets around to spelling out the lessons her brother learned long ago in his prison she's now just discovering in hers, Dark Places has committed the ultimate faux pas of murder mystery thrillers—it dispelled of all its ghosts with too much 'illumination.'
★★/☆☆☆☆☆