Reviews
Ricki and the Flash | Review
The Flash and How To Dull It: Demme and Streep Concoct Uneven Rock Cocktail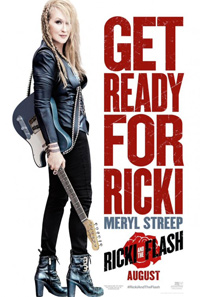 We've known the multifaceted Meryl Streep, amongst her many surprising and highly touted talents, has considerable range and presence as a vocalist. Director Mike Nichols was well aware of this, utilizing her untapped virtue in early titles like Silkwood (1983) and Postcards From the Edge (1990), back when everyone was mainly agog over her filmography of accents. Now, an auteur who has maintained an equally lucrative career of a wide ranging trajectory, returns for his first narrative venture since 2008's Rachel Getting Married for another bit of familial dysfunction with Ricki and the Flash, a vehicle resting comfortably on the shoulders of Streep's musical abilities. Considering the performer's striking ease and expected plausibility as an aged musician still chasing the dream, it is unfortunate the cotton candy concoction surrounding her is so intensely belabored.
Ricki Rendazzo (Streep) sings her heart out at night with her band The Flash at a bar called The Salt Well and by day she's a cashier at organic grocery store Total Food. She's involved in a tentative romance with guitarist Greg (Rick Springfield), but her recent filing of bankruptcy seems to have quelled her current emotional capacity. She gets a call out of the blue from ex-husband Pete (Kevin Kline) in Indiana. It seems their daughter Julie (Mamie Gummer) is in rough shape following a divorce from a husband who has left her for another woman. Pete's current wife Maureen (Audra McDonald) is currently in Seattle tending her own father's battle with ALS, so it would be beneficial for Julie if her actual mother could find the time to come help out. Scraping together the funds to buy a ticket from Los Angeles to Indianapolis, Ricki (whose real name is Linda) shows up to tend her ailing kid and make amends with people who bitterly wrote her off long ago.
Despite the combined proficiencies of Demme and Streep, Ricki and the Flash feels very much like a Diablo Cody film, who may have painted her latest screenplay with less garish colors than usual but still uses unwieldy, broad brush strokes on her favorite canvas of Midwest mannerisms. Indianapolis gets juxtaposed with Los Angeles through Cody's usual set of food signifiers, here represented by the native dessert known as the cruller, while economic privilege is as vaguely detailed as the comfortable blanket of a Nancy Meyers film.
Yes, Ricki clucks rather vocally and tactlessly about her filing of bankruptcy to whomever will listen, but Kline and Audra McDonald's palatial estate is credited to mild grievances over business on a laptop and the less said apparently the better. But when we're not treated to Ricki's cover band performing out of a very clean dive bar in Tarzana (which includes a slew of actual legendary rock n 'roll talent, the most prominent of which, of course, is none other than Rick Springfield as a guitarist and love interest—others include Bernie Worrell, Joe Vitale, and bassist Rick Rosas, who passed away after filming, instigating the film's dedication), the film feels hobbled by forced emotional crests.
Private moments between Streep, real-life daughter Mamie Gummer, and Kevin Kline are sometimes poignant (such as a brief moment where Streep performs the film's sole original track), but then suburban white folks busting out marijuana seems an illogical go-to, especially considering the mental health of their emotionally troubled daughter. But it's the films obnoxious dramatic showdowns in public really making Ricki a grueling slog, starting with a poorly drawn outburst in a café (featuring Demme favorite Bill Irwin), to a completely unnecessary and unwarranted parental conversation with Julie's ex and his new gal (Lisa Joyce, from Demme's A Master Builder), or a perturbing family dinner in a packed, tightly enclosed restaurant.
Sometimes, watching Ricki perform enlivens the film, especially when covering more meaningful vintage tracks, whether by Edgar Winter or Bruce Springsteen. It's these moments where Streep seems almost like a long lost Wilson sister from Heart. But then there's an interplay of Lady Gaga and Pink covers, where a troupe of youthful bar patrons rush the meager dance floor (while a hopelessly sycophantic Ben Platt as a sexually ambiguous bartender incessantly cheerleads) casts a cheap, karaoke pallor. Ricki's 'conservative' views are administered with lazy presidential references, seemingly just to imbue her confrontation with gay son Adam a bit of extra drama.
Initially, Cody's film seems to actually be interested in resolving Ricki's familial issues, particularly with her emotionally troubled daughter (this could've been easily called Julie Getting Divorced). But suddenly, everything feels weighted down with ineptitude when we realize no one except Streep's Ricki is granted any sort of actual dimension as a human character. Her heterosexual son is portrayed as an uptight bore by the constantly grimacing Sebastian Stan, marrying a young woman who can only be described as the broadest amalgamation of shrewish tendencies (Hailey Gates), while Nick Westrate's shrill gay caricature doesn't offer any justifiable facets of characterization.
Still, there are fleeting moments of picquancy, but these are eventually smothered by constant reminders of the emotionally hollow narrative. At its heart, the film never really resolves its central issue, a film about a mother who abandoned her Midwestern clan to pursue a musical career that's only brought her to a stagnant standstill, only to be reunited reluctantly with her children on the occasion of a divorce, then a wedding. And then…Opa! Still, despite the broad array of possible griping, this is heads above something like Mamma Mia!, Meryl's last sunshiny musical.
★★/☆☆☆☆☆