The Dead Don't Die: Bousman Weathers a Storm in Slow Burn Genre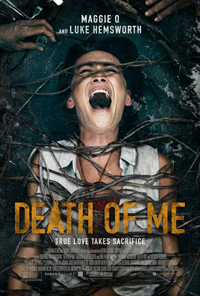 There's no predicting what to expect from Darren Lynn Bousman, other than we're likely to see another facet of his flair for genre, and such is the case with his latest venture, Death of Me, a glossy throwback to tourist terror traps which proves to be his most polished film to date.
As penned by three scribes (Ari Margolis, James Morley III, David Tish), it's a hodgepodge of tropes, borrowing from the tech terrors of J-horror and the cult ceremonies of Robin Hardy which features some interesting twists and turns unfortunately dulled by straitjacketing everything into the perspective of rather unlikeable and privileged Western tourists. While its two leads labor a bit beneath swaths of strained logic, the otherwise femme-centric storyline is gorgeously photographed and manages to remain compelling despite its absence of tension or terror.
Christine (Maggie Q) and her husband Neil (Luke Hemsworth), a photographer for a travel journal, have been vacationing on a small island off the coast of Thailand. Having tied one on the night before their departure, they wake up late, frazzled, and discombobulated, unsure about what happened the night before. Rushing to the ferry, their inability to locate their passports means they'll be stranded another day. Thankfully, the rental property owner, American ex-pat Samantha (Alex Essoe), is more than accommodating. As they try to piece together their memories from the night prior, Neil realizes he's recorded a video which is nearly two hours in length. As they watch it, they find Christine reacting strangely to a mysterious drink she's given in a restaurant, then the couple having violent sex outside on the lawn, ending with Neil strangling his wife to death and burying her in a shallow grave with his hands. Disturbed at what they see but unsure of how to comprehend it, they cling to a sense of normality as they attempt to get off the island as soon as possible. But a pendant Christine received at the same restaurant seems to have odd effects on her whenever she tries to take it off…

Bousman, whose career took off with Saw II (2005), the universe he's returning to with the upcoming spinoff Spiral (2021), gained cult notoriety for his inspired 2008 feature Repo! The Genetic Rock Opera, which was later received a wan studio pillaging in Repo Men (2010). Several lowkey indie horror features later (including the Rebecca De Mornay starrer Mother's Day, 2010), and Bousman has shown considerable growth as a notable contemporary genre director.
Lensed by Jose David Montero (What Happened to Monday?, 2017), the Thailand setting goes a long way towards establishing the brooding menace in Death of Me—unfortunately, it ends up feeling a bit one note up until the climax. The initial intrigue begins to spin its wheels, and while the clues are few and far between, they simply bolster what's already obvious about Christine's fate.
Maggie Q and Luke Hemsworth are an inspired pairing, but it would have been more beneficial to see them as a couple for at least a beat or two before their flurried failure to leave Thailand leads immediately into the video depicting her murder. As such, we eventually see reasonably intelligent people making one silly decision after another (such as Neil trotting off to take photographs despite the troubling video and symptoms his wife is experiencing). Alex Essoe, who had the misfortune of stepping in for Shelley Duvall in Doctor Sleep (2019), remains an uncanny screen presence—it's obvious there's something probably off about her, but as in her turn in Starry Eyes (2014), she remains consistently interesting.
Eventually, we meander through a narrative which finds small solace in tangents involving other creepy women (Kelly B. Jones, Kat Ingkarat) only to realize the entirety of Death of Me plays like the last twenty minutes of The Wicker Man (1973) stretched out for nearly an hour and a half.
★★½/☆☆☆☆☆