Save Yourselves! | Review
The Mood of the Gods: Fischer & Wilson Deliver Millennial Crises in Amusing Debut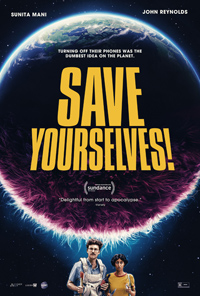 "This is the best thing we've ever done," remarks one part of a granola millennial heterosexual couple as they embark on what promises to be a rural, Emersonian idyll just before the world as they know it irrevocably disappears in Save Yourselves!, the directorial debut of Eleanor Wilson and Alex H. Fischer.
Familiar tropes get mashed together for a low-fi sci-fi moonlighting as a semi-serious relationship movie, but this is as multihyphenated as it gets since its superficiality glides into ambiguity, at least as far as making any conclusions about relationships, social media saturation, gentrification or the garden variety ennui of the digital age. Still, there's some light amusement to be had with two leads who might be playing obnoxious people, but at least manage to stay just interesting enough to hold our attention without seeming quirky or twee.
Thirtysomethings Su (Sunita Mani) and Jack (John Reynolds) realize they've been spinning their wheels both personally and professionally, interfacing with their phones more than one another and consumed by jobs which don't provide them with any passion. When a mutual friend at a wedding celebration offers them an opportunity to stay in his remote cabin upstate, they jump at the opportunity to disconnect from their devices and reconnect with each other. While getting a week off to embark on the adventure results in Su losing her job, the couple commit to keeping their phones off for the week. But shortly after arriving, strange things begin to happen, and suddenly a seemingly innocuous, sentient lifeform shows up, which eventually proves to be deadly.

Chances are, you've probably met people like Su and Jack, perhaps even relate to some of their issues and consternations, especially if you've ever been in a long-term relationship forced to examine stagnation, or the travails of the rat race in the metropolis. While Fischer and Wilson don't make them cyphers or soapboxes, neither Su nor Jack is invariably interesting, and what Save Yourselves! might be missing is building any genuine poignancy for them (which should have occurred before a third act twist with a baby, though the cute infant does infuse some charming energy in the final frames).
Laughs out loud are few and far between, but some epiphanies shared by the couple are meaningful, and by the time the extraterrestrials start to take over (which look like Hostess Snoballs and move like the terrors from Critters), the film makes decent use of its simple but novel alien creations (poof on the roof, indeed). Eventually, it seems the film's title is facetious, and perhaps salvation isn't something one can determine for oneself but through acts of selflessness for others.
It's a bit too wan to provoke more discourse, but Fischer & Wilson present a debut consistently amusing (though for fans of Amy Sedaris, be forewarned, hers is but the briefest of voice performances). For another contemporary arthouse examination which treads similar territory with more provocative parameters, try Ulrich Kohler's In My Room (2018).
★★★/☆☆☆☆☆