Boogeyman Nights: Green Overextends Himself in the Myers Saga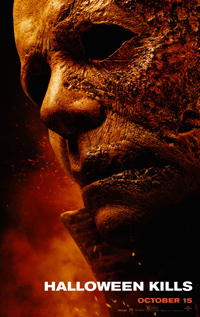 There is truth in having too much of a good thing, or, rather, adhering to the sage advice 'all things in moderation.' Overload is definitely the energy of Halloween Kills, the first of two sequels to David Gordon Green's successful reboot of the franchise with 2018's Halloween. New-ish ideas are explored, but the script from Danny McBride and Scott Teems find themselves at a loss attempting to navigate a plethora of characters, all who basically make the same statements.
The gang's all here, once again, including dusting off some minor players dating back to John Carpenter's 1978 landmark original. However, despite a welcome inclusivity reflected in the Haddonfield community, Green squanders an opportunity to really make his own mark on the Michael Myers mythos and shifts focus to a hollow ensemble effort for a repetitious roundelay of gory kills and brief examinations of the grief and guilt harbored by Curtis' Laurie Strode. Unfortunately, since the film was announced as a two-part finale, with the last installment Halloween Ends due next year, the tension is nil in what feels more like a filler cash grab.
Green pulls a similar trick to the original 1981 sequel, Halloween II, which begins immediately as the first film ended. We're tethered to the events of October 31, 2018, after an extended opening in 1978, which gives us director Jim Cummings (Thunder Road, 2018) in a brief supporting turn and fleshes out a subplot for Will Patton's Officer Hawkins, surviving the last film.
Laurie Strode (Curtis) is rushed to the hospital with daughter Karen (Judy Greer) and Allyson (Andi Matichak), the firetrucks rushing to put out the blaze in her home, where, of course, Michael Myers is saved from the inferno. Meanwhile, between the hubbub of the hospital, Green veers into the community at large, where a quartet of survivors, including Kyle Richards and Nancy Stephens of the first film, gather with their peers from Green's universe to mourn their loved ones every Halloween at hole in the wall which stages a talent show. Anthony Michael Hall is Tommy Doyle, their leader. Michael, as he is wont to due, begins another swath of carnage through town, making his way to his childhood home, now owned by two gay realtors named Big John and Little John. Since Michael is evil incarnate, as the film reminds us so often of, no one survives his path. When Karen is made aware Michael escaped their fiery trap, she is sure he will come to claim her mother at the hospital, recuperating from surgery. Meanwhile, the survivors rally all the townsfolk and an angry mob frenzy is born.
Green could have used this middle film to build significant dread or expand upon Michael Myers in some more interesting ways, considering Laurie Strode is put on the back burner, for most part, thanks to her injury (some over the top sequences in the hospital find Curtis chewing the scenery, while utilizing morphine just lying around). Instead, it's a somewhat clunky depiction of how blind fear turns people into monsters. Although this doesn't go so far to position Myers as Frankenstein's misunderstood creation, it really keeps events on a superficial level. "Evil dies tonight!" is the battle cry (even though we know it won't as there's an upcoming follow-up), and one could concoct a potent drinking game for every time the words "evil" or "boogeyman" or "forty years ago" are peppered throughout the corny dialogue. The decision to bring back Donald Pleasance as a hologram (please leave the man alone) also feels cheesy in a way which feels unnecessary instead of playful homage.
If the last installment gave us some thoughtful subtexts on grief and trauma, all characters in this sequel, across the board, feel extremely futile. Why they band together and then separate into small groups to combat a man no one can ostensibly kill bleeds immediately into boring inevitabilities. The most odd accent is the gay couple living in Myers' own home, who seem to have an odd relationship, and are placed in a somewhat tender display by the serial killer.
Shot by returning DP Michael Simmonds and with some new tweaks to Carpenter's classic score, it plays like the fright house pantomime of the name brand we've come to love. We're granted a somewhat ambiguous explanation as to why Myers may retain his power, and there's a lot of teasing with the removal of his mask, which seems to aggravate the eternal madman. Kyle Richards screams "I saw his face!," but then we're long past the point where such a detail even matters—-whatever he looks like will be a disappointment and seeing him doesn't stop him. With dialogue continually feeling risibly over baked (referring to Myers as an "apex predator" and continually cribbing on "the boogeyman is here" tend to land like lead), the best sequence of this film might be a clip from Minnie & Moskowitz (1971), the 'holiday' movie watched by Big and Little John.
Reviewed on September 8th at the 2021 Venice Film Festival – Out of Competition. 105 Mins.
★★½/☆☆☆☆☆