The Passion of Mia: Hansen-Love Makes Her Own Place at the Table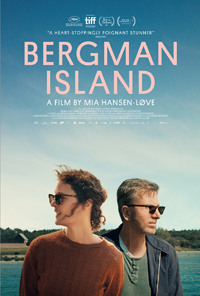 For her complex and absorbing seventh feature, Bergman Island, Mia Hansen-Løve returns to form, cribbing on semi autobiographical elements and the difficulties in asserting agency through what's referred to, in academic terms, as "female authorship." Hansen-Løve's past relationship with director Olivier Assayas arguably inspires this film-within-a-film about a pair of filmmakers who head to Faro Island to write their next projects, the famed isle of inspiration for late seminal auteur Ingmar Bergman.
Focusing on the difficulties expressed by lead Vicky Krieps, existing in the shadows of her more famous partner, struggling to create whilst engaged in an endless competition as the lower hand results in the kind of novelty Hansen-Løve has come to be revered for—-the exploration of creative energies denied the embrace or the nourishment of the mainstream.
Initially meant to star Greta Gerwig and John Turturro (which perhaps explains why they're still described as an American couple in the press materials), Krieps (of Phantom Thread, 2017) stars as Chris opposite Tim Roth as Tony. They're both filmmakers retreating to Faro Island to work on their next projects while Tony, the more famous of the two, attends screenings of his work. They also shared a young child, who is staying with relatives. Although amiable, it's clear Chris is struggling to find an entry point into her next project until she decides to use their current situation to explore hidden resentments and desires in her writing.
Excitingly, Hansen-Løve's film is exuberantly buttressed by conversations and interpretations of Bergman's body of work as well as his creative process. Bergman's personal life, his treatment of his wives, children and lovers are addressed, adding to the oppressive atmosphere of Chris as an artist in comparison to her own relationship. Would Bergman have been able to balance his prolific output with the role of husband or fatherhood? Likely not, but his achievements suffocate the entirety of the island. This duality of oppression is matched by Hansen-Løve's own staggering narrative as the film shifts gears upon Chris narrating the outline for her new project. Mirroring elements of her current situation, the film switches gears to relay the narrative of Mia Wasikowska's Amy, a successful director attending a wedding on Faro Island where she will rendezvous, to somewhat detrimental effect, with her first love, the opportunistic Joseph (another winning turn from Anders Danielsen Lie, also appearing in The Worst Person in the World).
The displacement taking place works beautifully, with Krieps spying on Roth's notes, discovering sexually graphic, BDSM style drawings, honing in on the gray zone between art and artist. Clearly, Chris is denied certain fulfillments (suggested by the softest of flirtations with a Swedish film student), and perhaps Roth is, as well. But through her character of Amy, she channels this anguish and brief, clandestine desire.
In a meta sense, Hansen-Løve, through Chris and Amy, reflects the roles allotted to women in Bergman's own life (and potentially her own) as both the differing diminishment of being either a primary or secondary love interest—-neither role is completely fulfilling if defined by being in service to another. Krieps is clearly the star, down to earth and confident despite her self-doubts. Roth seems more bemused on the sidelines, while against all odds, Hansen-Løve draws us into the anguish of Amy thanks to Wasikowska, mirroring Krieps' energy (and allowed a lovely musical aside courtesy of Sweden's other mega export, ABBA, to their track "The Winner Takes It All").

In its third life, Hansen-Løve abandons the film within a film to a new realm, where Chris has completed shooting said feature and we revert to a new reality of her life, interacting with Anders Danielsen Lie as himself before she's joined by husband and child. Their energy is different, with suggested equanimity but little confirmation about where they stand as a couple. If reading into the film as a key for Hansen-Love and her fifteen year relationship with Assayas, perhaps it suggests otherwise. But the wonderful ambiguity is instead an example of how artistic achievement, ultimately, is transmogrifying, in different ways for different types of people. As we leave Chris behind, in a loving embrace, and tuned to Hansen-Love's usual expert soundtrack selection, it's a moment of grace akin to the final frames of her 2016 masterpiece Things to Come.
Reviewed on July 11th at the 2021 Cannes Film Festival – Main Competition. 112 Mins
★★★½/☆☆☆☆☆