Under the Silver Lake | Review
Under the Sun of Satan: Mitchell's Messy Neo Noir Revels in Elitist Superficiality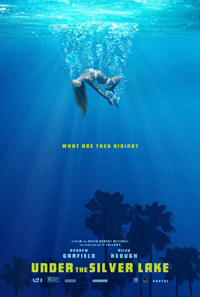 Look no further than David Robert Mitchell's third feature, the labored neo noir Under the Silver Lake, to experience a film about Tinseltown which is wrapped in an even flimsier coating than the film industry city is itself. Following on the heels of his celebrated sophomore film, the STD horror film It Follows (2014), Mitchell further defines the trenchantly white, heteronormative perspective evidenced in his earlier film with a hapless, undefined male protagonist who seems inspired by a legion of aimless literary mouthpieces (think P.T. Anderson's take on Pynchon in Inherent Vice but with the barest wisp of a back story). Hopelessly infatuated with the white, heteronormative universe in which it's set, this is a film which mistakes mockery and meaningfulness for fetish and frenzy.
Sam (Andrew Garfield), is a disillusioned thirtysomething in Los Angeles about a week away from being evicted. Unable to comprehend how he can pay all the rent he owes, he instead distracts himself by watching his neighbors. When the beautiful blonde Sarah (Riley Keough) responds to his advances and then suddenly vanishes, Sam finds himself obsessed with discovering what happened to her. Quickly, he begins to pull at strings which lead to a labyrinthine conspiracy with far-reaching roots in the secretive city.
If It Follows prized its narrow-minded trajectory, which allowed for Mitchell to craft a contemporary set tale sans the distractions of modern technology, it also perilously neglected the conception of a world with complex, multi-faceted sexualities. Under the Silver Lake follows this with a pronounced strain of obliviousness in the celebrity besotted, sallow veneer of sun speckled Los Angles, which has long been the setting of this self-consumed world of pools, parties, and dead people constantly cannibalizing itself.
Andrew Garfield's Sam is certainly no Spade, and yet a stand in for a legion of miserly white men led astray by a beautiful femme fatale throughout the annals of film noir. We learn virtually nothing about him to indicate why he might behave as he does, other than a suggestion of a love he once held for a woman who owned a dog. These details are thrown at us as a lazy way to plug into the myriad, obstacle course plotting, which concerns countless peripheral characters such as a paranoid comic book writer, struggling actress escorts, a Wizard of Oz style songwriter commanding our cultural output from his palatial sanctuary, a ridiculously conceived pop band, a recently deceased celebrity, and an overzealous Dog Killer who has been ruthlessly slaughtering denizen's canines in the Silver Lake area. Portions of Los Angeles are broadly defined, such as the eponymous hipster haven (a stand in for East L.A., apparently), and, of course, the city center of broken dreams, Hollywood.
The women in Under the Silver Lake are all presented as items of consumption, the most prominent being Riley Keough's Sarah, a blonde temptress who lures Sam into an underworld vortex when she suddenly disappears after a stoned viewing of How to Marry a Millionaire. Marilyn Monroe, like James Dean, is one of several hoary icons whose visage hovers prominently all over the city, and it's perhaps the film's most nifty trick to collapse Elvis Presley's granddaughter with a composite of late Monroe, as suggested by an eerie homage to the dead icon's last ill-fated project, George Cukor's 1962 Something's Got To Give, which was never completed. But where Mitchell fails, however, is with a rather unappealing male lead (who professes to despise the homeless population, despite the irony he will soon be homeless himself) chasing after the dream of a woman who he desires but barely knows.
A knot of repeated motifs abounds, including skunks, dogs, comic books, hidden codes, obscure Hollywood players, and more, which only provide Mitchell with a broad palette of red herrings about a city in which everything means something, but ultimately, that something is nothing at all.
Not nearly as nifty as it thinks it is (the use of silent star Janet Gaynor, the first woman to win a Best Actress Oscar, is as empty and lazy as Cameron Crowe's use of Peck's Atticus Finch in his Vanilla Sky, 2001), getting to the end of its two hour plus running time is a chore. Troubling in its insistence on directly naming the elitist ennui it's submerged in and then reconfirming its dominance, Under the Silver Lake is another false reflection of a city scape with countless untoward and problematic faces, and is itself a film too limited or afraid to delve into anything other than representing another episodic portrait of those privileged, overwhelmingly white, heterosexual denizens who believe they're entitled to a portion of whatever pie they desire.
Falling short of being either sadistic or subversive, Under the Silver Lake is a chore for anyone outside of its limited conception of codes and patterns designed by, manufactured for, and cherished within the established status quo.
Reviewed on May 16th at the 2018 Cannes Film Festival – Competition. 139 Minutes
★/☆☆☆☆☆