Dem Bones: Swanberg's Mellow Examination of Married Life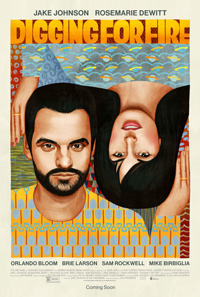 A married couple's weekend apart turns into the sort of mildly enterprising exploration of what happens when the cat's away in Digging For Fire as two people fantasize about the possibilities now mostly unavailable after time delivers them into the routine of marriage and the presence of children. At times grasping a sort of quiet wisdom in its representation of identities rebelling against the sanctions of social expectations, Joe Swanberg's film is also equal parts breezy and ominous (thanks to a central metaphor used to appealing effect) in its suggestions. A cast packed to the gills with notable indie names, comedians, and stars of more enduring celebrity, Swanberg's managed to move well beyond the roughhewn Mumblecore technical trappings for which he's been routinely criticized and has lodged himself firmly as a notable name in the American indie scene.
Allowed to languish in the spacious and luxurious home of one of her rich clients for the weekend, Lee (Rosemarie DeWitt) and husband Tim (Jake Johnson) take their three year old (Jude Swanberg, the scene stealer from Happy Christmas) along to use the opportunity to get out of their normal routine. Lee is expecting Tim to do their taxes while she takes the kid for an overnight stay at her parents. Instead, Tim invites some old friends (Sam Rockwell, Mike Birbiglia, etc) over to eat, drink, and chit chat about banalities before he shows his buds the old gun and possible human bones he found in the hillside next to this palatial abode. They help dig for a while but are interrupted by latecomer Billy (Chris Messina), who brings drugs and girls (Anna Kendrick, Brie Larson). The crew parties, but ultimately Tim is interested in the possibility he could unearth a human body. Larson's Max returns the next day to help Tim with digging and they discover certain camaraderie. Meanwhile, Lee takes advantage of her night alone and has a surprise rendezvous with a handsome stranger (Orlando Bloom).
Following their collaboration on 2013's Drinking Buddies, Swanberg crafted Digging For Fire with lead Jake Johnson, again the scrappy, utterly likeable screen presence he's brought to a wide range of titles, including several studio flicks (the harmless and watchable Let's Be Cops and this summer's juggernaut Jurassic World).
Despite this film's documenting of a couple's individual weekend experiences, the narrative gravitates towards Johnson's Tim, seemingly oblivious to his flirtatious connection with the bored ingénue played by Brie Larson. The ever enjoyable Rosemarie DeWitt engages in the more obvious trajectory. Squabbles with mom (Judith Light) and her new beau (Sam Elliott) about the kid's pre-school leads to a rather stilted observation from Elliott about marriage, something the film already has made us understand from how it's unfolding.
Desperate to experience some kind of something on her weekend away from husband and child, disappointed by her friend's (Melanie Lynskey) cancellation of their plans, this leads to a few too many candid conversations with Uber drivers (including one nicely underlined instance about a discussion on how happy people with money are…statistically). A tempting liaison with Orlando Bloom may usher a rosy response for some audience members, but Swanberg and Johnson play their scenario safe, eluding anything as drastic as something as Katie Asleton's The Freebie (2010), for instance.
Glimpses of effortless charisma drift in and out of the mellow texture of Digging For Fire, like a joyful interaction with a gleeful Jane Adams on the beach, or the generally discomforting Tom Bowers, or even an uncustomarily naughty Anna Kendrick, clomping around in heels and a skirt with a group of playful men at some stranger's house. It's a lovely landscape concluding with absoluteness—perhaps something best summed up by the adage about letting sleeping dogs lie.
★★★/☆☆☆☆☆