The Disaster Artist | Review
A Room of One's Own: Franco's Sincere Paean to the Art of Failed Art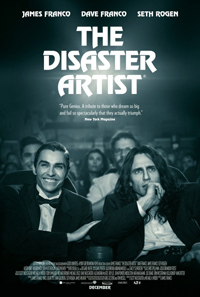 The notion "Imitation is the sincerest form of flattery," has assumed a certain defensive meaningfulness as a popular adage used to defend the popularized process of artistic regurgitation. But folks often clip Oscar Wilde's famed quote of its tart sting, conveniently forgetting this is a flattery "that mediocrity can pay to greatness." But in the case of James Franco's The Disaster Artist, which is based on the memoirs of actor Greg Sestero on the making of the infamous 2003 cult classic The Room, the notion of mediocrity, and perhaps the expectations of entertainment as a process in and of itself, is not only turned on its head but resoundingly perverted.
Franco, the actor turned writer-director who used his platform to launch uneasily and with warp speed through a filmography consisting of queer inclined aesthetics and limited Faulkner adaptations, has never seemed more at home than in his transformation as Tommy Wiseau, the mysterious cult icon underdog whose age, origins, and income remain an indefatigable mystery in an almost impossible age of revelation and transparency. The end result is a lovingly made homage to a film so inconceivably created it not only deepens the cultish reverie of the film but adds a certain textual dimension to the still resonant Hollywood dream of making it in show business by suggesting one only needs a blatant lack of self-awareness and exorbitant disposable income.
In 1998 San Francisco, aspiring actor Greg Sestero (Dave Franco) becomes fascinated with Tommy Wiseau (James Franco), a deliriously out-of-touch and over-the-top personality from his theater class. Requesting to act a scene out together after witnessing a liberal interpretation of famed moment from A Streetcar Named Desire, the two become fast friends, bonding over James Dean and their shared dream of becoming notable actors. When Tommy invites Greg to live with him as a roommate in his West Hollywood apartment, the younger, impressionable man jumps at the chance. However, Los Angeles doesn't exactly meet either of them with open arms, despite Greg's signing with an agent. When he suggests they make their own movie, Tommy cracks out a script filled with his favorite influences and sets off to film it himself, starring alongside his best friend. However, Tommy's significant idiosyncrasies result in a product which would go on to be considered one of the worst films ever made as well as one of the most beloved midnight movie experiences since The Rocky Horror Picture Show.
Franco earns his comparisons to Tim Burton's 1994 Ed Wood, the sterling standard of B-movie biopics which starred Johnny Depp as the titular director of Glen or Glenda and whose penchant for cross-dressing superseded anything he ever achieved on film. However, if Depp's Wood was overshadowed by Martin Landau's formidable Bela Lugosi, Franco is clearly the greatest achievement in The Disaster Artist. Conveying Wiseau's distinct mannerisms and fragile ego are no easy feat, and Franco does so without stooping to caricature. Instead, his take on the making of The Room is a testament on friendship and resiliency despite the superficial tendencies of an industry predicated on beauty and mild concern for talent.
What The Disaster Artist fails at is truly examining the intentions of Greg Sestero, something more or less swept under the rug in his 2013 memoir of his experiences with Tommy Wiseau. Likewise, Franco's film sometimes is awash in the energies of usual entourage, but perhaps never so obstructive than in the casting of his brother Dave Franco as Sestero, who is not a striking likeness to the actor's soap opera demeanor (sequences dependent upon a dilemma involving Sestero's beard are quite distracting).
What's worse is the level of detail taken to resurrect actual sequences from The Room, particularly the casting of Ari Graynor as Juliette Danielle and Jackie Weaver as Carolyn Minnott. Entertaining bits with Zac Efron playing the intense Chris R., and an amused Josh Hutcherson as the questionably age-appropriate actor playing Denny are also wonderfully revisited. Compared to all these elements, Dave Franco (and his on-screen relationship with a bartender played by real-life wife Alison Brie) takes one out of the otherwise delirious insanity of the making of The Room, even if the elder Franco uses these moments to give us a tour of Los Angeles staples like Ernie's Mexican Restaurant or Canter's Deli.
Scott Neustadter and Michael H. Weber do a fine job of re-tooling Sestero's book for the screen, cutting down significantly, however, on the actor's own back-story (floating throughout his moments are bits featuring Megan Mullally, Melanie Griffith, and Sharon Stone). The film's crescendo is the June, 2003 premiere of The Room, in which a star was born as Wiseau immediately proclaimed his debut to be an intentional comedy, its cast and crew re-experiencing their joys and travails a bit like the finale of Frank Oz's similarly functional Bowfinger (1999). While Franco allows Tommy Wiseau to emerge as a kindly, misunderstood man of certain passions, it's just too bad some of the distance and estrangement between both men couldn't have been as sincerely explored, as well.
★★★½/☆☆☆☆☆