Tracking Shot: Alistair Banks Griffin, Brady Corbet & Karyn Kusama Shooting in December
"Tracking Shot" is a top of month featurette here at IONCINEMA.com that looks at the projects that are moments away from lensing and as 2017 comes to a close, it means we're mostly looking at the year ahead. But in the case of these films listed below, there is no better time than the present. Here are the top indie and foreign film production items filming in December.
TOP THREE
Alistair Banks Griffin directed Brady Corbet in his debut film Two Gates of Sleep, and wouldn't you know it, both filmmakers are setting up on their sophomore films and might overlap their NYC shoots this month. Griffin went into production earlier this week (adding supporting cast) on The Wolf Hour, a tale that is set during the 1977 New York blackout riots and sees Naomi Watts isolated in her Bronx home.
Corbet has been working on Vox Lux almost minutes after Childhood of a Leader (review) won a pair of prizes in Venice (Lion of the Future – Luigi De Laurentiis Award for a Debut Film and Horizons (Orizzonti) – Best Director). Starring Side Effects pairing of Rooney Mara and Jude Law, this will also see the filmmaker reteam with Stacy Martin. This is about an unusual set of circumstances that brings unexpected success to a pop star. Lol Crawley is the cinematographer on this one.
On the West coast, Karyn Kusama has assembled a noteworthy mostly male supporting cast for her actioner called Destroyer. Nicole Kidman toplines. Sebastian Stan, Toby Kebbell, Bradley Whitford, Scoot McNairy and Tatiana Maslany are also on board. This is about a police detective who reconnects with people from an undercover assignment in her distant past in order to make peace.
NEW YORK
Known as the What's Eating Gilbert Grape novelist-screenwriter, Peter Hedges (20103′ Pieces of April, 2007's Dan in Real Life) embarks on his fourth feature this time with his son, Lucas. Julia Roberts shares the co-lead in Ben is Back, a holiday drama that places this twosome in dire circumstances.
CHINA
And finally, with the successful first edition of the Pingyao International Film Festival coming to a close in late October, Jia Zhang-Ke returned to shoot Ash Is Purest White – in what is the second portion of the film and we learned that his dp is Eric Gautier.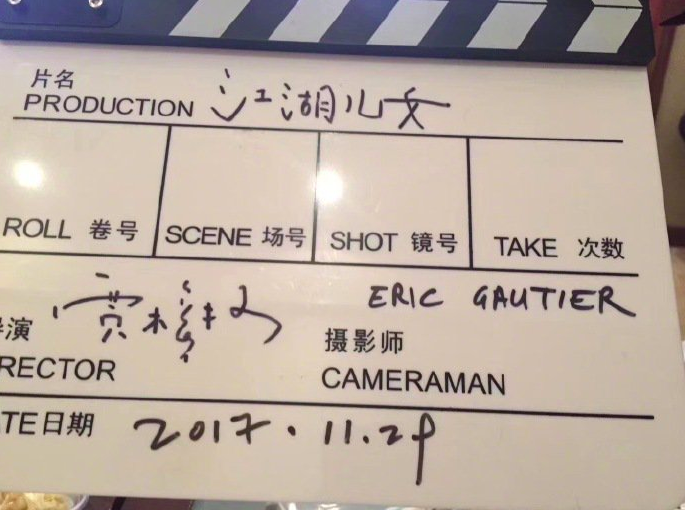 Ash Is Purest White
Director: Jia Zhangke
Writer:Jia Zhangke
Cast: Zhao Tao, Liao Fan
Producers: MK2
Filming in China.
Ben is Back
Director: Peter Hedges
Writer:Peter Hedges
Cast: Julia Roberts, Luca Hedges.
Producers: Nina Jacobson, Brad Simpson, Teddy Schwarzman.
Filming in New York City.
Destroyer
Director: Karyn Kusama
Writers: Phil Hay, Matt Manfredi
Cast: Nicole Kidman, Sebastian Stan, Toby Kebbell, Bradley Whitford, Scoot McNairy and Tatiana Maslany
Producers: Fred Berger, Phil Hay, Matt Manfredi
Filming in Los Angeles.
Vox Lux
Director: Brady Corbet
Writer: Brady Corbet
Cast: Rooney Mara, Jude Law, Stacy Martin.
Producers: David Hinojosa, Michel Litvak, Christine Vachon, Gary Michael Walters, Brian Young
Filming in New York City.
The Wolf Hour
Director: Alistair Banks Griffin
Writer: Alistair Banks Griffin
Cast: Naomi Watts, Jennifer Ehle, Kelvin Harrison Jr., Emory Cohen, Brennan Brown, Jeremy Bobb.
Producers: Brian Kavanaugh-Jones, Bailey Conway Anglewicz, Bradley Pilz.
Filming in New York City, New York.