Escapes of Time and Memory: Avedisian's Debut and the Cinema of Discomfort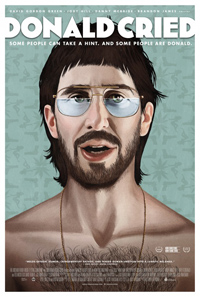 Director Kris Avedisian wants to make you feel repulsed and uncomfortable in his debut, Donald Cried, a feature length version based on his 2012 short. Another characteristically bleak portrait of the unavoidable awkwardness inherent in returning to one's estranged hometown, there are some deliciously awkward moments of discomfort here, but a lack of anything resembling profundity in this familiar scenario eventually robs the film of any real distinction. An embittered banker leaves Manhattan to deal with his grandmother's death in Rhode Island and quickly falls into dormant memories, further distressed by clingy friendships and morbid loose ends now two decades stale. Its discomforts exaggerated for queasy effect, the lack of characterization prior to its unholy reunion merely creates a series of afflicted surfaces.
Following the death of his grandmother, Manhattan banker Peter (Jesse Wakeman) returns to his hometown after an absence of twenty years. Struck by immediate misfortune when realizing he's lost his wallet on the bus, Peter appears to be stranded until further notice. A friendly realtor (Louisa Krause) claims to have been the little sister of an old friend, but he claims ignorance, insisting they sell the house as soon as possible. Thankfully, his old best friend Donald (Avedisian) still lives next door, sporting a shaggy mullet and enthused to see his old friend. The two were apparently rebel teens together, while Peter cleaned up his act and Donald evolved into a severe social pariah. Peter seems less enthused about their encounter, but sees an easy opportunity to solve his lack of access to cash, requesting Donald be his chauffeur while he attends to his grandmother's affairs. Donald is eager to acquiesce, but Peter's requests prove to have consequences.
Initially, Donald Cried promises to be another Chuck & Buck (2000), with Avedisian's dysfunctional social misfit inquiring if his old school buddy Peter still masturbates while they sit in his time capsule bedroom, a leering poster of John Frankenheimer's 1979 film Prophecy deliriously hovering behind them on the slanted wall. Initially, Jesse Wakeman's prissy performance as Peter seems to indicate his character is homosexual, judging from his oddly cold behavior with Louisa Krause's overly flirtatious real estate agent (a character who could have benefitted from a bit more screen time), but Avidesian avoids this crutch.
Until Peter becomes complicit in the context of this unhealthy homecoming, Donald Cried manages a few guffaws, mostly courtesy of Avedisian's particularly stunted titular character. Explaining how he's fantasized about Peter as some god-like rebel biker, he innocently comments on how his friend rather resembles a Jewish witch. This discomfort works quite well, at least when we're ready to buy Peter's lost wallet predicament in good faith. Up to a point, of course.
To necessitate the finale, some minor secrets are revealed and eventually we come to realize Peter, not Donald, is perhaps the more emotionally stunted character. But since both of them are rather irksome, the film's initial squirm inducing dissolves in its own dissolute, bitter broth. Both of them are worthy of equal measures pity and disdain, though inevitably they are too perfunctory to merit deeper resonance.
Despite the familiarity of the scenario, Avedisian does score some nice subtle touches in the blocking of the characters, visually outlining the universe separating them. But its best moment, by far, is a forlorn Donald as he gazes upon his old friend's departure as he disappears under the entrance to a Peter Pan bus depot. You can't go home again, the film seems to say, confirming everything we already know.
Reviewed on March 12 at the 2016 SXSW Film Festival – Narrative Feature Competition. 85 Mins.
★★½/☆☆☆☆☆