The Macaluso Sisters | Review
Sister Acts: Dante Wallows in Tragedy Defined Sisterhood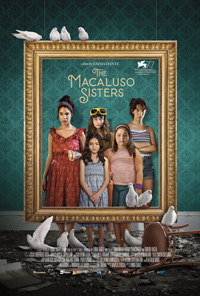 Director Emma Dante spins a melancholic web of familial woe following five women defined by tragic circumstances in her sophomore film The Macaluso Sisters. Based on her own prize-winning play, the playwright/director proves to be as masterful in dramaturgy for stage as well the screen balancing a handful of characters across three distinct periods portrayed by three different sets of actors.
Sidestepping the potential bewilderment of these visual and tonal shifts, tragedy's entrenched dysfunction drifts into a poignant memory poem in a third act where surviving sisters hold on to the memories of their lost siblings lodged in their mind's eyes. Touching without depending on sentimentality, it's a sun-soaked odyssey presenting a fine ensemble of characters and performances from its female cast.
Time, it seems, is not necessarily on the side of the five Macaluso sisters, a brood of children aged five to twenty who have been left to fend for themselves in Palermo. Eldest sister Maria (Eleanora De Luca) is basically in charge, a wannabe dancer hiding her sexual orientation from the others. The headstrong Pinuccia (Anita Pomario), a beautiful narcissist, spoils youngest sister Antonella (Viola Pusateri) by allowing her to use lipstick while constantly at odds with the awkward Lia (Susanna Piraino), the most unpredictable of the bunch. There's also the heavyset Katia (Alissa Maria Orlando), who after the tragedy befalling Antonella, is the only sibling to successfully start a family of her own. Segueing into middle aged adulthood of the remaining quartet, Katia's (Laura Giordani) husband is pressuring her to make the sister's sell the shared family home, but Maria (Simona Malota) harbors a secret medical diagnosis. Lia's (Serena Barone) mental issues have allowed for considerable aggression and duress with Punuccia (Donatella Finocchiaro), who often locks others out of the house for sexual trysts with her boyfriend. A dinner with Katia descends into depressing reality.
Dante's adaptation of her own play (co-written for the screen by Elena Stancanelli and Giorgio Vasta) is reminiscent of the internalized despair of the infamous family in Marco Bellocchio's classic Fists in the Pocket (1965), siblings chained together by codependency born of duress. We're introduced to them as a functional unit taking care of themselves without parents, whose fate transpired before the beginning credits. On the eve of the tragic event which will define their relationships until the end of their days, the accidental death of Antonella, there's a fitful fatefulness reminiscent of the foreboding events in Mustang (2015). The rifts of their adolescent years are forever cemented by the death of their sister, and brooding resentments are revisited in later outbursts which eventually lead us to fully understand what happened one sunny day on a Palermo beach.

The Macaluso Sisters picks up steam in during their middle-aged years, where thwarted sexual desires and cancer distract from more banal issues such as how to split their inheritance, the dilapidated home left by their parents, crumbling into its own mire with the neglected pigeons housed on their roof. The underlying property issues and seamless cinematography from Gherardo Gossi channel Chekovian resentments, while the switching back and forth between periods never strays from well-defined characteristics signaling each sister's strident personality. For comparison's sake, Dante's strengths far outshine similar femme-centric dysfunctional odyssey, such as the recent Women Do Cry from Bulgaria, which similarly features uses of sisters and animal corpse motifs.
Ending beautifully on remaining sisters in their elderly years, remembering their dead siblings with presentiments suggesting their most bittersweet recollections, what Dante packs into ninety-four minutes is as incredibly efficient as it is touching.
★★★/☆☆☆☆☆