Never Gonna Snow Again | Review
Intimate Strangers: Szumowska & Englert Explore Despondency & Isolation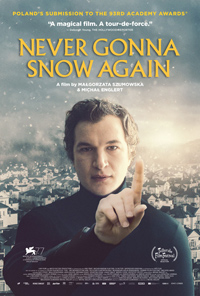 Our innate capacity for constructing the vehicles of our own alienation and ennui inform the backdrop of Never Gonna Snow Again, the latest title from Poland's prolific Malgorzata Szumowska, once again collaborating with her cinematographer Michal Englert who also steps into the co-director's chair on this project.
Set in a well-heeled, if ultimately cookie-cutter gated community treated by the healing hands of a foreign interloper in their midst, the narrative plays like a microcosm for Poland at large, the ex-Communist country which is notoriously anti-migrant (except, of course, when it comes to offering visas to foreign workers for low-paying jobs and wages the local population doesn't want, especially a recent influx of Ukrainians in the country over the past several years). Poland also just re-elected their homophobic leader President Andrzej Duda. With a growing filmography of titles which explore misogyny, homophobia, and religious hypocrisy in Poland (she just debuted her English language debut last year with 2019's The Other Lamb – read review), Szumowska's latest is an art-house fairy tale on the complexities of xenophobia in cultures which condone the exploitation of human services for their own myopic benefits.

Zhenia (Alec Utgoff) is a Ukrainian masseur who serves the needs of the wealthy residents in a gated Polish community. Nearly all his clients are incredibly melancholic, searching for greater meaning than their lives seem to provide. Initially, his work with them seems to penetrate beyond the flesh, and also being skilled at hypnosis, he brings a comfort to them which assuages even those whose bodies are failing them. Eventually, he's taken for granted, requested to assist with more emotionally intensive (and sexual) facets of their lives (or even the needs of their pets). But as his presence seems to change their existence for the better, his own mysterious past may require a succor his current situation won't allow for.
Szumowska and Englert present a banal gated community which upon an initial glance resembles the facades of fancy tenement style housing, as if socialist ideals have dictated a semblance of sameness and equality. Eventually, Never Gonna Snow Again borrows from various interloper or 'stranger-in-a-strange-land' narrative clichés, and Zhenia becomes a Tim Burton-like plaything (think Edward Scissorhands, 1990) in a maudlin Pasolini landscape (think Teorema, 1968).
The mysterious Zhenia, embodied by Alec Utgoff as an enigmatic Ukrainian, was born in Chernobyl, and his presence coincides with the environmental rumors of snow now being possibly obsolete. An even more mysterious client informs us of Zhenia's attraction to winter, the flaky ashes of radioactive fallout, which killed his own mother, a romantic substitute for the frozen condensation of the season. With a narrative comprised of intersecting vignettes, Zhenia serves as a healer or emotional salve for his clients, bopping from one fancy home to the next, juxtaposed with his own living arrangements in a dilapidating high rise.
The residents, a mixture of male and female, and their attraction or fascination to him, assists in the sort of sexual ambiguity which marked Terence Stamp's faux-fallen angel of Teorema, whose visitation sent a bourgeois Italian family into an existential tailspin. Many of the women (including Maja Ostaszewska, wife of Englert, Katarzyna Figura and internationally renowned Agata Kulesza) are chain-smoking dog-lovers, wary of new residents and resistant to changes in their landscape (such as one client upset at afforestation because it will reveal she illegally composted her dead husband). Lukasz Simlat is memorable as a dying father, while another Polish notable Andrzej Chyra (both of Szumowska's In the Name Of…, 2013) is another client with his own set of issues.
Unbeknownst to some of his clients, Zhenia is a master of hypnosis, which assists in lending the film an ethereal, supernatural tone, suggesting some superpowers instilled by his birthplace, with the incident at Chernobyl occurring on his seventh birthday. His participation in an eventual magic trick creates more baffling ambiguity by utilizing a trope performed in the narrative of The Tommyknockers.
While not exactly ascending to the sublime, Never Gonna Snow Again brings its narrative to the precipice of a superficial restoration of the natural order, but in keeping with past Szumowska offerings, doesn't yield any answers pertaining to class or immigration issues which gird the nagging backbone of the narrative.
In keeping with the poetic spirit of the tragic Mug (2018) and the droll Body (2015), Szumowska and Englert's Never Gonna Snow Again is a gently mysterious, darkly poetic tonic of the sacred and profane, showcasing the inevitable intimacy so easily objectified and abused when conjoined with those drowning in their own inconspicuous despair.
Reviewed virtually on September 7th at the 2020 Venice Film Festival. Main Competition – 115 Mins
★★★½/☆☆☆☆☆