Patch of Blue: Saville's Sophomore Film Lost in Endless Ellipses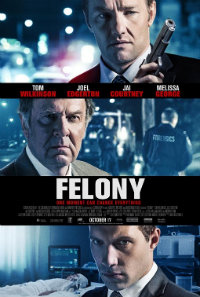 For his first film since his 2007 feature debut Noise, Australian director Matthew Saville returns with Felony, which seems to be a labor of love for Joel Edgerton, who besides starring in the film also wrote and produced. Presenting us with a complicated moral conundrum, an intriguing introduction and sly triangle of dueling intentions garners some tension, but the film overstays its reach by the third act, which feels like a repetitive extension of the perspectives at hand. Hardly the banal cop drama its oblique title would imply, Saville's film still lacks a certain finesse that would make this scenario have some sort of lasting impression.
Policeman Mal Toohey (Edgerton) parties a bit too hard one night after a significant raid on a drug lab, a bust that endangered his life. Driving home, he's about five blocks away from his destination when his rear-view mirror accidentally clips a young boy riding a bike. Hitting his head, the young boy is unconscious. Abstaining from fleeing the scene, Toohey calls an ambulance, but passes the incident off as the cause of another driver. Two other detectives arrive on the scene, seasoned vet Carl (Tom Wilkinson) and his partner, Jim (Jai Courtney), a rookie. They've been pursuing a pedophile case which has already shown their differing approaches and attitudes toward the law. Immediately, Carl can sense that Toohey's story doesn't quite add up. But Jim is skeptical. Pulling at strings, Jim is at first suspicious and then becomes convinced that Toohey is responsible for the condition of the young boy, who may pass away at any moment. But Carl is insistent that they leave well enough alone.
Felony suffers from same of the same pacing issues that plagued Saville's Noise. Edgerton's premise is certainly less complicated than that film, yet Felony hits a grueling patch of blandness that can't even be saved by the expressive soundtrack. Saville, who has spent many years working in television, doesn't seem quite suited for narratives requiring prolonged tension. The moral fortitude of its familiar scenario was explored with much more resonance in something like Alejandro Gonzalez Inarritu's 21 Grams, for instance.
Saville's film gets most of its mileage from a crusty Tom Wilkinson, here once again playing an enigmatic law enforcement figure that outshines the rest of the cast, not unlike his turn in this year's Good People. Melissa George gets sandwiched into the sympathetic role as Edgerton's wife. "We can live with this," becomes the couples' mantra as they watch his young victim shrivel and die in the hospital.
Edgerton's scenario has enough finesse to capture the correct level of complication and conflict here—he's a man that just took a bullet in the line of duty, yet his inebriation while driving automatically makes him at fault for an accident that could have just as easily happened while he was completely sober. Yet, the law is the law.
The weak part of this scenario is an underwhelming Jai Courtney, whose only motivation besides doing the right thing (here seen as a 'rookie' move) is a wanly drawn attraction to the pretty young mother of the victim. A very familiar scenario could have been shaken up a bit here—what if Courtney's character found himself attracted to the single father of the young boy or some other spin on this taken-for-granted setup of inevitably predictable outcome? Instead, there's nothing very daring ventured, even if Edgerton does play the conflicted protagonist quite well.
★★½/☆☆☆☆☆