Hemogobble: Turkel's Latest Assay into Misanthropy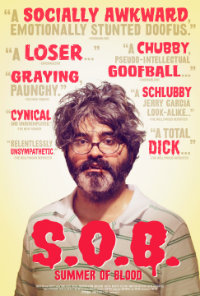 Indie filmmaker Onor Turkel seems determined to remain hilariously unlikeable as his self-effacing, self-directed on-screen alter ego with his latest feature, Summer of Blood, a title which just so happens to formulate the acronym SOB. A pathetic, socially defunct scion of selfishness that recalls the comedic weirdness of performers such as Eric Wareheim or Tim Heidecker, Turkel's protagonist is often impossible to like (even if we're supposed to find him entertaining). Of course, the irony Turkel plays with here as he tinges his film with genre, is that he only becomes humane when he transforms into something inhuman.
Lumpy, unkempt and emotionally distant, we meet Eric Sparrow (Turkel) having dinner with longtime girlfriend Jody (Anna Margaret Hollyman). She hands him a ring, which is meant to be a proposal, though she doesn't quite receive the answer she'd been expecting, with Eric very vocally opposing the need to ever marry or have children. Leaving the restaurant, Jody crosses paths with an old acquaintance, a very attractive, affluent, professional male. Pretending not to know Eric, she runs off with stranger, leaving Eric all alone. Throwing himself into an online dating site, Eric begins a series of unsuccessful dates, finding that nearly every woman finds him rather repellant, even one that somehow lets him sleep with her. Struggling to get back together with Jody, a chance encounter with a creepy stranger on the street (Dustin Guy Defa) that turns out being a vampire has Eric admitting that being dead would just be easier. Presto, Eric is now a blood sucker. But this isn't actually a bad thing. He revisits the three women he'd recently taken on dates, all finding him to be a better lover, conversationalist and overall improved person. Oh, and he also has powers of hypnosis.
While there's not really much by way of substance to Summer of Blood, Turkel's (who really does resemble Jerry Garcia) appallingly realized Eric Sparrow isn't without entertainment value, a man so seemingly out of touch with how others view him (including a droll co-worker played by Alex Karpovsky) that his selfishness might land him somewhere on the autistic spectrum. By the time we get to Sparrow becoming a vampire, the outré energy established in the first half fizzles out and is replaced with the novel humor. Until then, much of Sparrow's comedy comes from excellent supporting cast members. As a flirtatious co-worker, Dakota Goldhor makes a hilarious impression, and as his girlfriend, Anna Margaret Hollyman (Gayby; White Reindeer) proves to be the most acerbically talented performer to come along since Parker Posey. Not to mention Turkel includes snippets of other indie alums in the cast, both Reindeer director Zach Clark and Tarnation helmer Jonathan Caouette show up as brief cameos.
Turkel's film shines brightest when he's engaged in tête-à-tête, including a date that drivels into a hilarious conversation about the filmography of Tyler Perry. Or a bevy of other comical references, such as Jody's new boyfriend warning her about Eric's continued presence in her life. "Have you seen Star 80?" But Turkel's examination of the self-absorbed modern male is nothing new, and Summer of Blood doesn't quite reach the horrific or comedic heights one would hope.
★★½/☆☆☆☆☆